Dr. Klaus Kluger has been named the company's Managing Director for Europe. Dr. Kluger began his position July 1, 2014.
Pleasanton, Calif., July 22, 2014 - Adept Technology, Inc. (Nasdaq:ADEP), a

leading provider of intelligent robots, autonomous mobile robot solutions,
and services, today announced that Dr. Klaus Kluger has been named the
company's Managing Director for Europe. Dr. Kluger began his position July
1, 2014.
"We are pleased to announce that Klaus Kluger has joined Adept," said Rob
Cain, Adept president and CEO. "Dr. Kluger is a strong leader with an
extensive background in sales, marketing and service. He is tasked with
enhancing Adept's mobile and fixed robot market penetration and our support
services throughout Europe. We look forward to Dr. Kluger's leadership and
welcome him to the Adept team."
Prior to joining Adept, Dr. Kluger held several positions at Emerson,
including managing director at Emerson Network Power; general manager for
Switzerland and Austria at Emerson Process Management; and director
Instruments Division for Emerson Process Management. He has also been
managing director for Mobrey, and managing director for PMV
Vertriebsgesellschaft, a Flowserve company.
About Adept Technology, Inc.
Adept is a global, leading provider of intelligent robots, autonomous mobile
robot solutions, and services that enable customers to achieve precision,
speed, quality and productivity in their assembly, handling, packaging,
testing, and logistical processes. With a comprehensive portfolio of
high-performance motion controllers, application development software,
vision-guidance technology and high-reliability robot mechanisms with
autonomous capabilities, Adept provides specialized, cost-effective robotics
systems and services to high-growth markets including medical, electronics,
food and semiconductor; as well as to traditional industrial markets
including machine tool automation and automotive components. More
information is available at www.adept.com.
Featured Product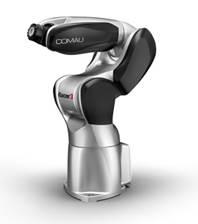 Racer3 is a powerful, high-speed, 6-axis articulated robot featuring a payload of 3kg and a reach of just 630 mm. Built from high-strength aluminum, the newest innovation in Comau robotics is lightweight and can be easily mounted on benches, walls, ceilings or on inclined supports. The third robot within the award-winning Racer family, Racer3 is Comau's response to the growing demand for fast, cost-effective robotic automation within small to medium-sized enterprises and emerging countries. Racer3 is intended for general industry use to increase productivity and reduce overall costs by automating industrial applications. It combines field-proven technology and enhanced dexterity with a keen focus on safety, design and product aesthetics. With a streamlined design and brushed metal exterior, the new powerhouse of a robot combines beauty and speed together with absolute precision and repeatability. Primary applications include assembly, material handling, machine tending, dispensing and pick & place.