Italian-based manufacturer specializes in high performance custom cabling solutions for machine and process control
LISLE, Ill.--Molex Incorporated, a global manufacturer of complete interconnect solutions, announced today that the previously announced acquisition of Flamar Cavi Elettrici s.r.l. has closed. Italian-based cable manufacturer Flamar specializes in the design of custom cables for industrial connectivity applications.

Flamar will now operate as a subsidiary of Molex Incorporated. Terms were not disclosed.
Italian-based Flamar Cavi Elettrici specializes in custom cables from design to finished product, Flamar high performance cables are deployed in industrial, automation, robotics, broadcast audio/video, and telecommunications applications.
About Molex Incorporated
Providing more than connectors, Molex delivers complete interconnect solutions for a number of markets including: data communications, telecommunications, consumer electronics, industrial, automotive, commercial vehicle, aerospace and defense, medical and lighting. Established in 1938, the company operates 45 manufacturing locations in 17 countries. The Molex website is www.molex.com. Follow us at www.twitter.com/molexconnectors, watch our videos at www.youtube.com/molexconnectors, connect with us at www.facebook.com/molexconnectors and read our blog at www.connector.com.
Featured Product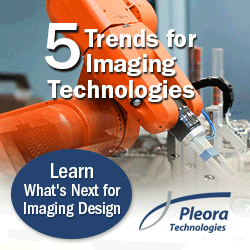 Technology development moves at a dizzying pace and the machine vision industry is no exception. Specific to imaging there is consistent innovation aimed at improving efficiencies, costs, and intelligence. Over the past 12 months, for example, new USB3 Vision™ products have driven the design of higher bandwidth, plug-and-play solutions for imaging applications. What's next for machine vision? This article examines five trends that are expected to influence imaging system design. Sign up at right to receive news and updates on the latest vision technology for medical imaging and you'll receive Five Trends for Imaging Technologies free!