Led by Growing Demand in China, Robotics Industry Expanded by 60% Since 2009
MOUNTAIN VIEW, CA--(Marketwired - July 22, 2014) - A 60% rise since 2009 in the global market for industrial robots has brought the number of in use to over 1 million, according to a study released today by Whale Path, the leading research marketplace. Whale Path's report Trends In Robotics also noted the total global market for industrial robots is now $13.3 billion annually.

Whale Path's study uncovered a number of compelling findings about the current state of the industrial robotics industry and its growth trajectory, including:
*There are now more than 1 million industrial robots installed worldwide. Of these, 50% are located in the Asia Pacific market, 33% in Europe, and 17% in North America. (Source: World Robotics)
*In the last five years, the global market for industrial robots grew by approximately 60%. In that time, the Chinese market quadrupled and exports of industrial robots from Japan increased by approximately 80%.
*The size of the global market for industrial robots in 2011 was $13.369 billion, $4.872 billion of which was for electronic packaging robots.
*The automobile and the electrical and electronics industries account for the majority of demand for industrial robots, followed by the metal and machinery industry, and the plastics and chemicals industry.
The study also reviewed growth trends in the global market. Since 2001, the Chinese market for industrial robots became the biggest market in the world for industrial robots intended for the automobile industry, increasing by an annual average of 41% to. Despite the fast rise of industrial robots in the Chinese market, Japan's market continued to rank first in imports at 70.6% and is still trending upwards.
Trends In Robotics is based on a review of third party data sources by a team of Whale Path researchers, who examined search trends and production statistics from global robot manufacturers, iRobot, Recon Robotics, Ekso Bionics, Honda, Boston Dynamics, PV-KRAFTWERKER, and SpaceX to complete their findings.
"Our report shows that a booming global market for robotics is rapidly replacing jobs that are boring, dirty, or dangerous, especially when the tasks in question require more speed, precision, endurance, or power than a human can provide," said Colin Gu, co-founder, Whale Path. "Trends in Robotics is a great example of how research sourced from publicly accessible sources can uncover hidden truths about markets and business opportunities."
The complete report Trends In Robotics is available as a free download at http://whalepath.com. Lean more information on Whale Path and its research capabilities at http://whalepath.com or by mailing info@whalepath.com.
About Whale Path
Whale Path is reinventing the market for business research. Whale Path's custom research marketplace makes high-quality, custom reports accessible to anyone by automatically matching research requests with Masters and Doctoral candidates from top universities, then passing every report through a rigorous quality control process. Its subscription service offers instant downloads of proprietary research from top academics. Founded in 2012 and based in Mountain View, California, Whale Path's advisors include executives from top companies like Credit Suisse and Fidelity Investments as well as educators from Stanford University and the University of California, Berkeley. Learn more at http://whalepath.com.
Featured Product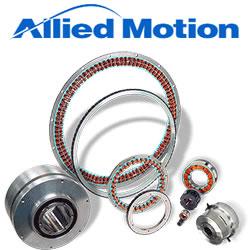 Allied Motion's Megaflux MFH170i series of 170 mm (6.7 in) diameter housed brushless torque motors consists of a high performance brushless DC torque motor, a digital servo drive, and an optical encoder, all integrated into a rugged machined aluminum housing with robust duplex bearings. The MFH0170i series features a 63.5 mm (2.5 in) large-bore through shaft, and is characterized by a very high torque-to-inertia ratio. There are three stack lengths in the series with peak torque ranging from 8.5 up to 16.9 Nm (75 up to 150 lb-in). The standard winding voltage is 48 V. And to ease the hassle of long leadtimes for prototypes, the new MFH170i is now available through our QuickShip program.