This unique technology allows operators to interact with the HMI similarly to a tablet or smartphone with intuitive gestures and multi-touch actions.
VERNON HILLS, Ill. - Mitsubishi Electric Automation, Inc. introduces the GOT2000 Series, a human machine interface (HMI) that monitors and controls machine components with a graphical touchscreen. This unique technology allows operators to interact with the HMI similarly to a tablet or smartphone with intuitive gestures and multi-touch actions.

The GOT2000 acts as a seamless gateway to industrial automation devices, including programmable logic controllers (PLC), variable Mitsubishi Electric Automation Introduces Graphic Operation Terminal with Touchscreen Capabilityfrequency drives, servos and temperature controllers. The display is designed to optimize operator control and monitoring of device and line status.
The GOT2000 Series can also integrate wireless LAN communications, allowing for flexible system designs. Other features include expansion slots for optional communication and dual processors. Particularly useful to OEMs is a flexible SD card drive that provides storage, as well as an interface to quickly load program, OS, and PLC backup files. Additionally, remote access to the HMI and connected equipment allows for easy maintenance and training.
End users can take advantage of the GOT2000's functionality to provide user access and logging information, as well as storage of work instructions from standard Adobe®, Word® and PowerPoint® documents, and video recording and playback.
The GOT2000 Series graphic operation terminal provides options for virtually all types of industrial automation applications. Large screens up to 15" provide excellent performance for automotive and other large facilities, the white frame models provide an easy-to-clean flat surface for food and beverage applications, and smaller screen sizes down to 3.7" provide flexible options for any size machine.
Additional information about the GOT2000 Series is available at the product web page on the Mitsubishi Electric Automation web site. Information on Mitsubishi Electric Automation's comprehensive line of factory automation products and solutions is also available.
Mitsubishi Electric Automation, Inc.
Headquartered in Vernon Hills, Ill., Mitsubishi Electric Automation, Inc., offers a wide range of factory automation products, solutions, training and support services for the industrial and commercial sectors. A U.S. affiliate company of Mitsubishi Electric Corporation, Mitsubishi Electric Automation represents more than 75 years' experience in the automation industry. A broad product portfolio includes programmable automation controllers (PAC), programmable logic controllers (PLC), human machine interfaces (HMI), variable frequency drives (VFD), servo amplifiers and motors, control software, computerized numerical control (CNC), circuit breakers, robots and motion controllers. The company takes its motion control solutions on the road with the 53-foot long Solutions in Motion mobile showroom that appears at tradeshows, training seminars and other events across North America.
In addition to factory automation, Mitsubishi Electric US group companies' principal businesses include semiconductor devices, automotive electrical components, elevators and escalators, heating and cooling products, solar modules, electric utility products, and large-scale video displays for stadiums and arenas. There are 50 locations throughout North America with approximately 3,600 employees.
Featured Product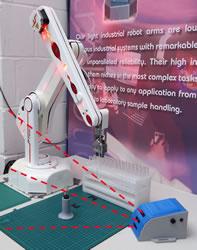 ST Robotics have decades of experience in industrial robots having sold hundreds of robots over the years. The company has 3 main models, R12, R17 and R19 all using a unique simple industrial technology that dramatically reduces costs resulting in the lowest priced industrial robots available. The same uncomplicated technology vastly improves reliability. ST backs this up with a 2 year warranty. Typical applications are routine testing, sample handling and also education. The software is a different paradigm from most robots. It is command based; you type a command and see immediate action. Programming is a building block approach, building confidence as you program in small 'mind-sized bytes'. ST offers free unlimited technical support.