A team of Whitehead Institute researchers is bringing new levels of efficiency and accuracy to one of the most essential albeit tedious tasks of bench science: pipetting. And, in an effort to aid the scientific community at large, the group has established an open source system that enables anyone to benefit from this development free of charge.
Dubbed "iPipet," the system converts an iPad or any tablet computer into a "smart bench" that guides the execution of complex pipetting protocols. iPipet users can also share their pipetting designs with each other, distributing expertise across the research community. The system, created by researchers in the lab of Whitehead Fellow Yaniv Erlich, is described in detail in a letter appearing this week in the journal Nature Methods.

Erlich says that today's experiments frequently rely on high-throughput methods that combine large numbers of samples with large scale, complex pipetting designs. Pipetting errors can lead to experimental failure. Although liquid-handling robots would seem to be a logical choice for such work, they are also extremely expensive, difficult to program, and require trained personnel. Moreover, they can be plagued by technical snafus, ranging from bent or clogged tips to an inability to capture liquids lying close to the bottoms of individual wells.
"We needed an alternative to costly robots that would allow us to execute complex pipetting protocols," says Erlich. "This is especially important when working with human samples that are often in limited supply."
iPipet illuminates individual wells of standard 96- or 384-well plates placed on top of a tablet screen, guiding users through the transfer of samples or reagents from source to destination plates according to specific designs. Users create their own protocols in Microsoft Excel files in comma-separated format and upload them to the iPipet website, which generates a downloadable link for execution on a tablet computer. Included on the iPipet site are a variety demos and an instructional video.
So, how well does iPipet work? Beautifully, according to members of the Erlich lab. In a test of the tool against a liquid-handling robot, iPipet enabled nearly 3,000 fixed-volume pipetting steps in approximately seven hours. After significant time spent on calibration, the robot accomplished only half that number of steps in the same allotted time. To date, one of the only challenges lab users have encountered is keeping well plates in a fixed position on the tablet screen. For that, Erlich's team provides a solution: a 3D printed plastic adaptor that users can create with a file accessible via the iPipet website.
"The entire iPipet system is open source," says Erlich. "We want to maximize the benefit for the community and allow them to further develop this new man-machine interface for biological experiments"
http://wi.mit.edu/
Featured Product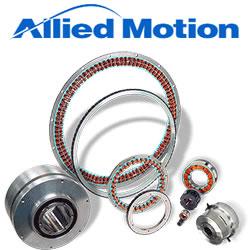 Allied Motion's Megaflux MFH170i series of 170 mm (6.7 in) diameter housed brushless torque motors consists of a high performance brushless DC torque motor, a digital servo drive, and an optical encoder, all integrated into a rugged machined aluminum housing with robust duplex bearings. The MFH0170i series features a 63.5 mm (2.5 in) large-bore through shaft, and is characterized by a very high torque-to-inertia ratio. There are three stack lengths in the series with peak torque ranging from 8.5 up to 16.9 Nm (75 up to 150 lb-in). The standard winding voltage is 48 V. And to ease the hassle of long leadtimes for prototypes, the new MFH170i is now available through our QuickShip program.