New tool features detailed data recording and analysis for optimized flash solutions
July 17, 2014, Taipei, Taiwan - Innodisk, the service-based flash provider, announces iAnalyzer - an easy to use storage analysis tool for customers using or considering SSD products. iAnalyzer records read/write behavior of a SSD in real-time, categorizing these operations as either sequential or random I/O, as well as segmenting by the size of the operation.

iAnalyzer lets users base their storage decisions on real data, tracking their system's actual storage needs instead of working off assumptions or hypotheticals. The level of detail that iAnalyzer provides, lets customers predict drive failures before they happen and select the right SSD to maximize service life for their needs.
Deep Data
iAnalyzer presents a deep level of detailed information on your systems storage behavior, showing distribution of reads versus writes, whether they're sequential or random access, and sorting by the size of the operation. Through easy-to-read pie charts and figures, users can instantly visualize their application's key I/O behavior.
Flash Challenges
iAnalyzer provides users with the data to help them choose the right flavor of flash for their needs. While lower grade consumer MLC or TLC flash can only be written to(programmed) less than 1,000 cycles, industrial grade MLC can be written from 1,500 to 3,000 cycles, and high end SLC flash performs for 60,000 to 100,000 cycles. Although SLC is the premium flash product, its cost isn't justified for every application. Through iAnalyzer, customers can select the right type of flash to meet their system needs while satisfying their bottom line.
Tailored Solution
iAnalyzer data doesn't just help customers directly, but also means tailored SSDs are possible. With its in-house firmware team, Innodisk can optimize SSDs to specific iAnalyzer profiles, giving the best endurance, performance and service life for the price.
iAnalyzer is a powerful feature for collecting, analyzing and displaying storage data in Innodisk's iSMART utility. Through iAnalyzer, customers can easily capture their application's I/O behavior. This real-time data collection provides deep insight into the user's application, and aids them in optimizing the best storage solution for their system. Innodisk iAnalyzer is able to work on a wide variety of embedded systems, including industrial, medical, transportation, automation, and gaming industries. Innodisk iAnalyzer whitepaper, download file: tiny.cc/Innodisk_iAnalyzer
About Innodisk
Innodisk is a service driven provider of flash memory and DRAM products for the industrial and enterprise applications. With satisfied customers across the embedded, aerospace and defense, cloud storage markets and more, we have set ourselves apart with a commitment to dependable products and unparalleled service. This has resulted in products including embedded peripherals designed to supplement existing industrial solutions and high IOPS flash arrays for industrial and enterprise applications. The expanded business lines are leading our next step in being a comprehensive solution and service provider in industrial storage industry.
Founded in 2005 and headquartered in Taipei, Taiwan with engineering support and sales teams in China, Europe, Japan, and the United States, Innodisk is able to support clients globally. With abundant experience and an unrivaled knowledge of the memory industry, Innodisk develops products with excellent quality, remarkable performance, great cost-efficiency, and the highest reliability. For more information about Innodisk, please visit http://www.innodisk.com.
Featured Product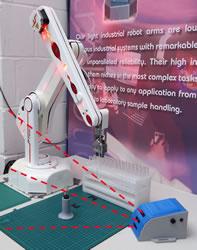 ST Robotics have decades of experience in industrial robots having sold hundreds of robots over the years. The company has 3 main models, R12, R17 and R19 all using a unique simple industrial technology that dramatically reduces costs resulting in the lowest priced industrial robots available. The same uncomplicated technology vastly improves reliability. ST backs this up with a 2 year warranty. Typical applications are routine testing, sample handling and also education. The software is a different paradigm from most robots. It is command based; you type a command and see immediate action. Programming is a building block approach, building confidence as you program in small 'mind-sized bytes'. ST offers free unlimited technical support.