S2C boasts largest Prototype Ready™ interface library in the industry
BEAVERTON, Ore. and SAN JOSE, Calif., Aug. 18, 2014-- Northwest Logic and S2C, Inc. announced today that Northwest Logic's PCI Express® (PCIe®) 3.0 solution, including the Expresso 3.0 Core (PCI Express 3.0 Controller Core) and family of DMA Cores has been validated on S2C's ASIC prototyping platforms. These cores are now the latest addition to S2C's Prototype Ready™ IP suite. This validation was done with 8 lanes running at 8 Gbit/sec SERDES rates. The joint validation effort ensures user's confidence on integrating the high-speed PCIe IP into their SoC designs, shortening the project cycle.

"For systems that demand high speed communications, PCIe Gen3 is a must-have technology," said Toshio Nakama, Chief Executive Officer of S2C. "Partnering with Northwest Logic in the S2C Prototype Ready IP program provides customers immediate access to critical IP, pre-verified and running on a high-speed, high-capacity prototyping platform. Our Prototype Ready IP suite has over 70 pre-verified IP cores and daughter cards. With proven performance and a prototyping reference flow, IP integration is smooth allowing customers to accelerate their SoC design cycle. I am happy to have Northwest Logic's participation."
S2C's unique FPGA-based solutions enable designers to quickly implement and debug their latest high-performance designs, as well as develop and refine system software. S2C's TAI Logic Module family provides high-speed GTX ports, on-board DDR3 memory, and various interface daughter cards for users to easily verify high-performance interface IP such as PCIe, SATA, and USB.
Northwest Logic provides a complete PCI Express Solution. This solution includes Northwest Logic's high-performance, easy-to-use, silicon-proven Expresso 3.0/2.1/1.1 Cores for PCI Express, DMA Back-End Core which provides high-performance scatter-gather DMA engines, Drivers (Linux & Windows) and Application software. Additionally, Northwest Logic offers high-performance Memory Controller and MIPI cores.
"We're very pleased to be working with S2C," said Brian Daellenbach, President, Northwest Logic. "Customers complete their development work quickly and with confidence by leveraging our high-performance and full-featured PCIe cores, combined with S2C's off-the-shelf, high-quality prototyping platforms."
About S2C
Founded in 2003 and headquartered in San Jose, California, S2C provides rapid SoC prototyping solutions including:
*Rapid FPGA-based prototyping hardware and automation software
*Prototype Ready™ IP, interfaces and platforms
*System-level design verification and acceleration tools
S2C's flexible, expandable and reusable hardware architecture combined with transaction-based links to system simulations make S2C's solution an ideal common platform for major design phases from algorithm exploration, IP design, system integration to compatibility testing. S2C currently has offices or representatives in the US, Europe, Japan, Korea, China, Taiwan, and India. For more information, visit www.s2cinc.com.
About Northwest Logic
Northwest Logic, founded in 1995 and located in Beaverton, Oregon, provides high-performance, silicon-proven, easy-to-use IP cores including high-performance PCI Express solution (PCI Express 3.0, 2.1 and 1.1 cores and drivers), Memory Interface Solution (DDR4/3/2, LPDDR4/3/2 SDRAM; HBM, MRAM, RLDRAM 3/II), and MIPI Solution (CSI-2, DSI). These solutions support a full range of platforms including ASICs, Structured ASICs and FPGAs. For additional information, visit www.nwlogic.com.
Featured Product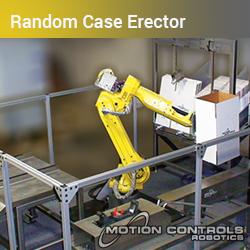 Random Case Erectors are ideal for fulfillment centers and other end-of-line packaging needs. Save money by eliminating changeover downtime. Reduce ergonomic injuries by eliminating repetitive manual tasks. The Random Robotic Case Erector System includes: • FANUC M20iA/20 Robot • Combi gravity case magazine - holds 2 box sizes • Combi bottom flap folder with integrated 3M case sealing head. • Fixed robot base, anchored to the floor • Flexible end of arm tool to pick and erect multiple case sizes to eliminate changeover downtime • System wiring and controls • Color 7.5" touchscreen HMI display for selecting case size • Perimeter guarding with safety interlocks on doors • Programming for Robot, PLC/PMC, HMI and Vision • Complete documentation in electronic format • On-site training and support • Compliance with all applicable robotic safety standards. Alternate safety configuration may be available to allow an operator to changeover a case size in one magazine while the robot continues to work in other magazines. Contact Motion Controls Robotics to learn more about how to implement this system into your current end-of-line operations.