Customers can visit Macron's product Web pages and configure actuators to meet their specific needs.
Croydon, PA August 15, 2014

Macron Dynamics, Inc., a manufacturer of linear robotics motion systems and automation components, recently announced a new company standard of fulfilling orders for belt driven actuators, sensor kits and gearboxes, in an industry leading seven-day turnaround time. Customers using Macron's online web configurator to design their belt driven actuator's specifications will receive their configured MacSTANDARD actuator within seven days.
"We've standardized our ships fast belt driven actuators in a way where a customer can configure their component and specify it to their needs online," said Craig Marshall, Executive Vice President at Macron Dynamics. "And in-house, we developed a fast track process to fulfill these orders and have them in our customer's hands in just seven days."
Customers can visit Macron's newly updated belt driven actuator product Web pages and configure an actuator to fit their desired shaft type, drive shaft location, travels, and options for motor mounting, sensor requirements and gearboxes.
For additional information about Macron Dynamics' seven-day order fulfillment, please visit http://www.macrondynamics.com/lp/7-day-turnaround.html or call 1-800-MACRON-1 (1-800-622-7661). To learn about other Macron products or to see Macron's products in motion, visit http://www.macrondynamics.com.
About Macron Dynamics, Inc.
Macron Dynamics is a manufacturer of linear robotics solutions and mechanical motion components found in automation systems through the U.S. and around the world. For more than 25 years, Macron has refined each component and every product through time-tested installations and experience. Macron products are built with the highest quality materials, assembled in the USA, and engineered to withstand the abuses of rigorous, daily usage. Macron specializes in delivering automation solutions including single-axis, long travel, gantries and multi-axis linear robotics systems for a wide range of industries. Macron's unique product designs consist of both standard and configurable models that can be quickly modified to meet most robotics and automation applications.
Featured Product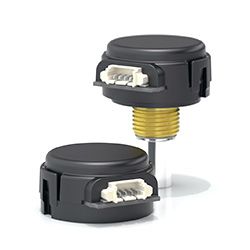 US Digital is pleased to announce the launch of the E4T, their latest series of miniature high performance optical encoders. The E4T series delivers a marked performance increase over similar encoder models and designed to be an enhanced replacement for the E4P encoder series. The E4T utilizes state of the art transmissive optical sensing technology, and incorporates US Digital's own proprietary OptoASIC. Assembly of the E4T is simple and efficient and retains the previous E4P's form factor. Key features of the new E4T include: • Mechanically and Electrically Interchangeable with E4P • Improved Quadrature Signal Strength • 100 kHz Frequency Response • Transmissive Optical Design • Collet Style Push on Optical Disk Design (Patent Pending) • Simple & Efficient Assembly Process As with all of our products the E4T is designed and manufactured in their Vancouver, Washington USA facility and is available for purchase as of December 2014.