October 15-17, 2014 in Boston, MA.
FRAMINGHAM, Mass., Aug. 22, 2014 -- RoboBusiness is proud to announce that preeminent innovator, robotics thought leader and Jibo, Inc founder and CEO , Dr. Cynthia Breazeal, will keynote at RoboBusiness 2014 (www.robobusiness.com), the leading business development event for the global robotics industry, taking place October 15-17, 2014 in Boston, MA.

Dr. Breazeal is an Associate Professor at MIT where she founded and directs the Personal Robots Group at the Media Lab. She is a pioneer of Social Robotics and Human Robot Interaction whose research spans both the creation of intelligent and socially responsive robots as well as how they contribute to people's quality of life. She penned the book "Designing Social Robots" and has published over 100 peer-reviewed articles, presented at TED, is a recipient of Technology Review's TR35 Award, TIME magazine's Best Inventions, and was honored as finalist in the National Design Awards in Communication.
Dr. Breazeal's company, Jibo, Inc., is producing the world's first family robot. As of August 19, crowdfunding for Jibo has banked over $1.75 million. Dr. Breazeal's keynote, Social Robots: From Research to Commercialization, will discuss how this new "breed" of social robot interacts with people in an interpersonal way, more as a partner rather than as a tool, and opens new applications for socially intelligent machines in the future. Bridging the gap between the lab and commercial market, she will point to methods for creating robotic technologies that can enhance people's quality of life with specific applications focusing on children in healthcare, education, and telecommunication. Dr. Breazeal will also discuss the commercial challenges of bringing robots to the home as a mass consumer product in the context of Jibo.
RoboBusiness 2014 is all innovation all the time. Join 1,200 executive-level attendees, including robotics executives, investors, researchers, end users and business consultants for three days of private networking, world-class speakers and informative educational sessions on robotics' commercial opportunities.
About Robotics Trends Media Group
The Robotics Trends Media Group accelerates the advancement of robotics through a collection of integrated media brands customized to serve audiences at all levels of the robotics industry. Comprised of online publications and live events, The Robotics Trends Media Group brands currently include Robotics Trends (www.roboticstrends.com), Robotics Business Review (www.roboticsbusinessreview.com), RoboBusiness (www.robobusiness.com), RoboBusiness Europe and CES' Robo Marketplace.
Featured Product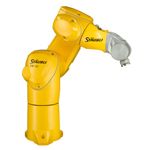 Stäubli offers a complete range of robotic tool changing systems for payloads of 20 kg to 1,530 kg and torsion moments from 30 to 12,500 Nm, designed for use in virtually every industry. The tool changers adapt to customer-specific applications with different modules for media, data, power, etc. The new MPS 130 robotic tool changer is powerful, very robust, and designed for a huge range of applications. It features multiple couplings for air/vacuum connections, and can be equipped with connectors for data and electrical transmission. Very compact dimensions, with a coupled height of only 67 mm, make the MPS 130 the first choice for applications requiring a high number of mating cycles.