Inc. Magazine Unveils 33rd Annual List of America's Fastest-Growing Private Companies - the Inc. 5000
NEW YORK, Aug. 25, 2014 -- Inc. magazine ranked Midwest Prototyping No. 3724 on its 33rd annual Inc. 500|5000, an exclusive ranking of the nation's fastest-growing private companies. Midwest joined the ranks of Yelp, Pandora, Timberland, Dell, Domino's Pizza, LinkedIn, Zillow, and many other well-known names as a member of the Inc. 500|5000.

"To be included on this list three consecutive years is a great honor and one I am proud of. This is a testament to our staff and their willingness to learn, grow, and embrace new opportunities and challenges. For several years now, we've been in a nearly constant mode of remodeling our facility, adding new equipment, software, and redefining processes. Through it all, we've remained focused on a commitment to serving our customers and our mission of being easy to do business with. Congratulations to the whole Midwest team for making it again. The 3D printing and Additive Manufacturing industry is a very exciting place to be right now." - Midwest Prototyping Founder Steve Grundahl
According to Inc. 5000, 2014 had the most competitive field of companies ever recorded. The aggregated revenue for Inc. 5000 members topped $211 billion, generating 505,000 jobs over the past three years. We're pleased to be associated with this elite group of organizations and plan to grow further, continuing to increase our three year growth rate of 85%.
"What surprises me, even though I know it's coming, is the sheer variety of the paths our entrepreneurs take to success, thematically reflecting how our economy has evolved," says Inc. President and Editor-In-Chief Eric Schurenberg.
About Midwest Prototyping
Established in 2001, Midwest Prototyping is a specialist in additive manufacturing, rapid prototyping, and low volume production. We offer various 3D printing processes to fulfill client needs, resulting in an expedited turnaround for tight project deadlines. Within our facility, we offer stereolithography, selective laser sintering, urethane casting, CNC machining, and full finishing capabilities to additively manufacture initial testable prototypes, or production components. From our facilities in Blue Mounds, WI, we service small businesses and Fortune 500 clients across the country.
For more information on Midwest Prototyping, visit www.midwestproto.com
Featured Product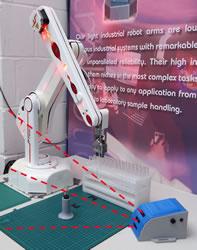 ST Robotics have decades of experience in industrial robots having sold hundreds of robots over the years. The company has 3 main models, R12, R17 and R19 all using a unique simple industrial technology that dramatically reduces costs resulting in the lowest priced industrial robots available. The same uncomplicated technology vastly improves reliability. ST backs this up with a 2 year warranty. Typical applications are routine testing, sample handling and also education. The software is a different paradigm from most robots. It is command based; you type a command and see immediate action. Programming is a building block approach, building confidence as you program in small 'mind-sized bytes'. ST offers free unlimited technical support.