All DigiFlex® digital servo drives can operate brushed and brushless servomotors, and voice coils
Camarillo, CA- Advanced Motion Controls announces the release of 14 new 60Amp and 100Amp servo drives to the DigiFlex Performance family.

These panel mount drives take up to 240VAC 3 phase or 373VDC input power with a variety of feedback options including Incremental Encoder, Resolver, Absolute and Universal.
All DigiFlex® digital servo drives can operate brushed and brushless servomotors, and voice coils. All models utilize digital current and vector control algorithms in order to obtain optimal performance. The digital and analog inputs and outputs are fully programmable. A Windows© based configuration and setup software allows the user to intuitively and quickly set up the drive for proper operation with any motor.
These new CANopen, EtherCAT and RS232/485 models are available for immediate shipment.
Click on the link below for more information on the new servo amplifiers from AMC-
https://www.servo2go.com/search.php?search=Digiflex&D=PROD
Featured Product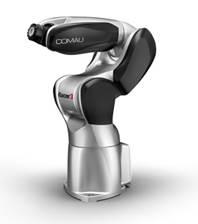 Racer3 is a powerful, high-speed, 6-axis articulated robot featuring a payload of 3kg and a reach of just 630 mm. Built from high-strength aluminum, the newest innovation in Comau robotics is lightweight and can be easily mounted on benches, walls, ceilings or on inclined supports. The third robot within the award-winning Racer family, Racer3 is Comau's response to the growing demand for fast, cost-effective robotic automation within small to medium-sized enterprises and emerging countries. Racer3 is intended for general industry use to increase productivity and reduce overall costs by automating industrial applications. It combines field-proven technology and enhanced dexterity with a keen focus on safety, design and product aesthetics. With a streamlined design and brushed metal exterior, the new powerhouse of a robot combines beauty and speed together with absolute precision and repeatability. Primary applications include assembly, material handling, machine tending, dispensing and pick & place.