International Manufacturing Technology Show (IMTS), September 8-13 at McCormick Place
Morgantown, Pa. - Nilfisk Industrial Vacuums will present new products and solutions for metalworking facilities at the International Manufacturing Technology Show (IMTS), September 8-13 at McCormick Place (Booth E-5825) in Chicago. Set to debut at the show, the new Nilfisk CFM VHO200 sump pump vacuum, which collects, recycles, separates and discharges gallons of chips, cuttings, lubricants and other liquids in just minutes.

The VHO 200 is the newest addition to its current line of single- and three-phase machine shop oil vacuum cleaners. The VHO200 is ideal for metalworking processes that benefit from the time-savings and cost reduction associated with quickly recycling metalworking chips and liquids.
Nilfisk offers a complete line of industrial vacuums designed for the metal market that include special features like removable collection bins for simple waste disposal, compatibility with large-capacity separators and hoppers for bulk collection, and special filtration pads and coalescing filters to prevent the recirculation of harmful oil mist.
Additional product showcases include industrial vacuum cleaners for general facility cleaning, powder coating operations and continuous-duty applications, and explosion-proof/dust ignition-proof models for the collection of combustible metal dusts to increase compliance with industry regulations.
For more information on Nilfisk Industrial Vacuums or to arrange an interview with a Nilfisk representative at IMTS, contact Maxine Chang at maxine.chang@nilfisk.com or 610-913-5365.
About Nilfisk Industrial Vacuum Division
Nilfisk Industrial Vacuums, a division of Nilfisk-Advance, Inc., is one of the largest providers of cleaning equipment in North America. From its Morgantown, Pa. headquarters, Nilfisk Industrial Vacuums supports three brands of industrial vacuum cleaners - Nilfisk, Nilfisk CFM and Nilfisk ALTO - all equipped with exceptionally efficient filtration systems and user-friendly features. Its vacuums play a critical role in thousands of manufacturing facilities and industrial processes across North America. Nilfisk Industrial Vacuum's direct sales force and extensive dealer network solve a variety of cleaning challenges, including combustible dust, general maintenance, overhead cleaning, abatement, process integration, laboratory and cleanroom contamination control, and more. For more information, visit www.nilfiskindustrialvacuums.com.
Featured Product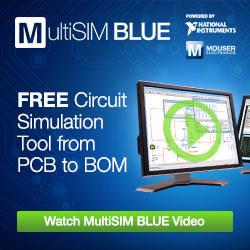 Powered by NI, MultiSIM BLUE Upgrade includes schematic capture, simulation, PCB layout, BOM-to-cart capabilities using only one tool. No more switching between different programs for circuit design. Perform MCU co-simulation. New voltage, current and power probes as well as faster active analysis mode are also available. Plus, it even comes with an expansive database of new components from industry-leading manufacturers. Discover why EDN named MultiSIM BLUE a HOT 100 Product of the Year.