The producers of the 2014 Robotics Alley Conference & Expo turned to automation provider PaR Systems to help develop content for a Manufacturing & Assembly Track.
This year, to highlight innovative uses of automation in today's manufacturing and assembly industries, the producers the Robotics Alley Conference & Expo turned to automation provider PaR Systems to help develop a track specifically on that topic.

The Manufacturing & Assembly Track will include five presentations that highlight ways industrial robotics have evolved in recent years.
Presentations include:
*Advanced Applications of Industrial Robotics, Including Human Collaboration
*Stuart C. Shepherd, CEO Americas - KUKA Robot Group, KUKA Robotics Corporation
*Expanded Use of Robotics in the Production of Critical Components
*Scott Voldness, Director, Engineer - Facilities & Equipment, ATK Aerospace Systems
*Lowering the Cost of Robotics Through Advanced Technology and Software
*Dr. Khalid Sorensen, Control Systems Engineer, CAMotions
These sessions represent a sampling of the more than 30 breakouts attendees will have access to at this year's two-day event. Other tracks cover topics including health care, transportation, agriculture, security and defense, and more.
The 2014 Robotics Alley Conference & Expo takes place Sept. 16-17, 2014, at the Minneapolis Marriott Northwest. Visit http://www.roboticsalley.org/ for more information about the event and to register.
Featured Product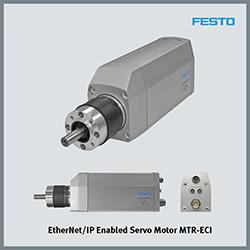 Mechatronic Motion Solutions from Festo is a unique system of components, modules, and software. It integrates all types of pneumatic, servopneumatic and (electro)mechanical automation motion and combines them according to your task. Irrespective of the control system environment you use, Mechatronic Motion Solutions always provides the appropriate interfaces. The fingers can be actively moved and their strength amplified; the operator's hand movements are registered and transmitted to the robotic hand in real time. The objectives are to enhance the strength and endurance of the human hand, to extend humans' scope of action and to secure them an independent lifestyle even at an advanced age.