The producers of the 2014 Robotics Alley Conference & Expo turned to automation provider PaR Systems to help develop content for a Manufacturing & Assembly Track.
This year, to highlight innovative uses of automation in today's manufacturing and assembly industries, the producers the Robotics Alley Conference & Expo turned to automation provider PaR Systems to help develop a track specifically on that topic.

The Manufacturing & Assembly Track will include five presentations that highlight ways industrial robotics have evolved in recent years.
Presentations include:
*Advanced Applications of Industrial Robotics, Including Human Collaboration
*Stuart C. Shepherd, CEO Americas - KUKA Robot Group, KUKA Robotics Corporation
*Expanded Use of Robotics in the Production of Critical Components
*Scott Voldness, Director, Engineer - Facilities & Equipment, ATK Aerospace Systems
*Lowering the Cost of Robotics Through Advanced Technology and Software
*Dr. Khalid Sorensen, Control Systems Engineer, CAMotions
These sessions represent a sampling of the more than 30 breakouts attendees will have access to at this year's two-day event. Other tracks cover topics including health care, transportation, agriculture, security and defense, and more.
The 2014 Robotics Alley Conference & Expo takes place Sept. 16-17, 2014, at the Minneapolis Marriott Northwest. Visit http://www.roboticsalley.org/ for more information about the event and to register.
Featured Product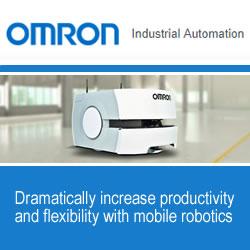 The Omron Adept Lynx Cart Transporter is an Autonomous Intelligent Vehicle (AIV) designed to attach to movable carts and transport them from a pickup location to a drop off location. Applications include line-side inventory replenishment, moving flow racks, transporting Work in Progress (WIP) between process steps, and moving finished goods to the warehouse. The Lynx Cart transporter leverages Natural Feature Navigation to autonomously find a path through the facility without the need for any facility modifications necessary.