The demonstration marks a significant milestone in a partnership between the university and Lockheed Martin that began earlier this year.
WARSAW, Poland, Aug. 30, 2014 -- A team of research students and staff from Warsaw University of Technology have successfully demonstrated the first phase of flight test and integration of unmanned aircraft platforms with an autonomous mission control system. The demonstration marks a significant milestone in a partnership between the university and Lockheed Martin that began earlier this year.

"This is an excellent opportunity for our students to collaborate with a global leader in aerospace engineering to develop complex control software," said Professor Janusz Narkiewicz, the leader and scientific manager of the project from Warsaw University of Technology. "The project also integrates this control software onto multiple unmanned aircraft as part of a full flight test program."
The purpose of this project, which is principally staffed by university research students, is to optimize the performance of unmanned aerial vehicles when flying in fleets manned aircraft, in order to make the best use of available assets for any given mission. The program adds to Lockheed Martin's strong links with Polish industry and commitment to supporting the development of engineering excellence by partnering with academic and research institutions.
Lockheed Martin is a world leader in security and aerospace and a proud partner of the Polish Air Force, which operates some of the world's most advanced F-16 fighter aircraft and the versatile and dependable C-130 tactical airlifter. With an office in Warsaw, the company is pursuing a number of opportunities to expand long-term partnerships with Polish industry in both the defense and security sectors.
Lockheed Martin is a global security and aerospace company that employs approximately 113,000 people worldwide and is principally engaged in the research, design, development, manufacture, integration and sustainment of advanced technology systems, products and services. Internationally, Lockheed Martin has more than 1,000 international partners in 70 countries, with significant footprints in the United Kingdom, Canada and Australia. The Corporation's net sales for 2013 were $45.4 billion, including 17 percent from international sales.
Featured Product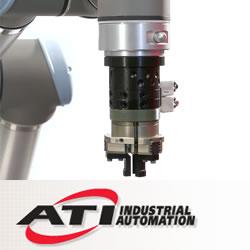 The ATI Robotic Tool Changer provides the flexibility to automatically change end-effectors or other peripheral tooling. These tool changers are designed to function reliably for millions of cycles at rated load while maintaining extremely high repeatability. For this reason, the ATI Tool Changer has become the number-one tool changer of choice around the world. ATI Tool Changer models cover a wide range of applications, from very small payloads to heavy payload applications requiring significantly large moment capacity.