Proprietary metalworking "application optimization" process has helped customers save millions of dollars by controlling indirect costs and improving productivity - Consultative services focus on reducing time, leveraging technology and enabling collaboration to help customers achieve a leaner and more productive supply chain - Leading technical metalworking expertise and strong supplier partnerships deliver tailored solutions to help customers meet specific business needs - ControlPoint Inventory Management solutions help customers achieve greater visibility and control over their MRO and metalworking spending
MELVILLE, N.Y., Sept. 3, 2014 -- MSC INDUSTRIAL SUPPLY CO. (NYSE: MSM), a leading distributor of Metalworking and Maintenance, Repair and Operations ("MRO") supplies to industrial customers throughout North America, will feature the company's metalworking expertise and ControlPoint inventory management solutions including ControlPoint Vending at the 2014 International Manufacturing Technology Show (IMTS). MSC's technical experts will demonstrate how they can help customers gain greater visibility into their supply chains to reduce MRO inventory costs and improve productivity and profitability. MSC will be at booth W-1636 from September 8-13, 2014 at Chicago's McCormick Place.

Today's manufacturers are increasingly looking across their entire supply chain to identify opportunities to strategically take cost out of their business. MSC's experts focus on three key areas -- reducing time, leveraging technology and enabling collaboration -- to help customers identify critical cost drivers that can be more effectively controlled to help improve operational efficiency and drive value back into their business. Click to Tweet: @MSC_Industrial focuses on reducing time, using technology and collaboration to save millions in MRO waste. Learn how @IMTS_ 2014 boothW1636
In most manufacturing operations, there is an immense investment in the tools, processes and people needed to cut, shape, fabricate and assemble critical metal components. Increasingly, manufacturers are looking to their distributor partners for the right tools and technology to drive efficiencies up and costs down to improve their overall profitability. Through a proprietary metalworking application optimization process, MSC experts perform a business needs assessment to help a company analyze and measure its tool usage as well as conduct a deep dive on the overall manufacturing application - all with the goal of reducing expenses and improving cycle times. At the same time, MSC's inventory management solutions help customers improve their ordering, tracking, storage and deployment protocols, which also reduce expenses and increase efficiency.
"Our customers are constantly looking for smart solutions to help them reduce their operational costs and better compete in today's competitive, high-pressure manufacturing environment. We are seeing a lot of success in helping our customers reduce their costs by optimizing their applications, leaning their supply chains and providing them with access to the right selection of metalworking or MRO products that are tailored to their needs," said Kim Shacklett, Vice President at MSC Industrial Supply Co. "Our metalworking team is comprised of advanced technical specialists who have a deep understanding of our customers' needs and speak their language, understand their business intimately, and can identify ways to improve their bottom line. They have access to a broad range of metalworking solutions and inventory management technologies that enable us to deliver unmatched cost savings to our customers."
MSC has some of the industry's most highly trained technical and supply chain experts in all areas of machining and applications support including process optimization. MSC's specialists will be on-site to offer consulting on application optimization or best practices with supply chain management. In addition, MSC will showcase its ControlPoint Inventory Management suite of solutions with an inventory management analysis demonstration. The ControlPoint suite can be tailored to meet a customer's specific business needs and to help them drive cost savings, productivity and profitability. Industry partners Kennametal, OSG and Lenox, will be on site to present their latest offerings and share how MSC is collaborating with these metalworking leaders to help drive productivity and cost savings for our mutual customers.
To learn more about MSC's broad range of metalworking products and ControlPoint inventory management solutions, please visit www.mscdirect.com.
About MSC Industrial Supply Co.
MSC Industrial Supply Co. is one of the largest distributors of Metalworking and Maintenance, Repair and Operations ("MRO") supplies to industrial customers throughout the United States. MSC employs one of the industry's largest sales forces and distributes approximately 600,000 industrial products from approximately 3,000 suppliers. In-stock availability is approximately 99%, with next day standard delivery to the contiguous United States on qualifying orders up until 8 p.m. Eastern Time. For more information, visit MSC's website at http://www.mscdirect.com.
Featured Product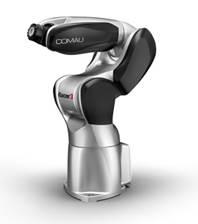 Racer3 is a powerful, high-speed, 6-axis articulated robot featuring a payload of 3kg and a reach of just 630 mm. Built from high-strength aluminum, the newest innovation in Comau robotics is lightweight and can be easily mounted on benches, walls, ceilings or on inclined supports. The third robot within the award-winning Racer family, Racer3 is Comau's response to the growing demand for fast, cost-effective robotic automation within small to medium-sized enterprises and emerging countries. Racer3 is intended for general industry use to increase productivity and reduce overall costs by automating industrial applications. It combines field-proven technology and enhanced dexterity with a keen focus on safety, design and product aesthetics. With a streamlined design and brushed metal exterior, the new powerhouse of a robot combines beauty and speed together with absolute precision and repeatability. Primary applications include assembly, material handling, machine tending, dispensing and pick & place.