World's 4th Largest Exporter of Machine Tools Will Be Represented by More than 80 Companies; Press Conference & Panel Discussion Will Take Place Sept. 10
CHICAGO, Sept. 4, 2014 -- As the world's fourth largest exporter of machine tools, Taiwan will have a major presence at the 2014 International Manufacturing Technology Show (IMTS) running Sept. 8-13 at Chicago's McCormick Place. More than 80 companies from Taiwan will be exhibiting, and executives from some of the country's leading machine tools and accessories builders will present their latest products, innovations and insights on industry trends at a press conference and panel discussion at the show on Wednesday, Sept. 10. The event - "Taiwan Machine Tools Shaping the Future" - is scheduled from 1:30-3 pm in the South Building-Level 4, Conference Room S402.

Topics to be covered at the press conference and panel discussion include:
*Winners of the Taiwan Machine Tools Industry awards for excellence in innovation
*Key machine tool trends in aerospace, automotive and other industries
*Taiwan's contributions to those trends
The moderator will be Alan K. Lu, Executive Director/Chairman, Machine Tools Committee of the Taiwan Association of Machinery Industry (TAMI) & Kent Industrial Co., Ltd. Panelists will include Brian Arcari, President, YCM Americas Inc.; James Huang, Manager, TONGTAI Machine & Tool Co., Ltd.; Randy Ragnini, Director of Sales, Toyoda Machinery USA; and others.
The event is organized by the Bureau of Foreign Trade and implemented by the Taiwan External Trade Development Council.
TAIWAN'S MACHINE TOOL INDUSTRY is helping solar energy plants, major semiconductor manufacturers, panel industries, multinational car makers and many others innovate and increase their competiveness through advanced machine tool products. Nearly 80% of the total machine tools output last year was exported to over 138 countries. In 2013, Taiwan had total machine tool exports of more than US$3.5 billion and total machine tool component exports of more than US$1 billion. The U.S. is the second largest export market for Taiwan machine tools after China/Hong Kong, followed by Thailand, Turkey, Germany, Indonesia, South Korea, Malaysia, Russia and the Netherlands.
In 2013, exports of Taiwan-made lathes and turning machines to the U.S. reached US$1.187 billion. Taiwan also supplied 10.93% of the total U.S. machining center requirements, valued at some US$141.42 million. Machining centers ranked third in Taiwan-to-U.S. machinery exports.
In the area of machine tools, Taiwan shipped US$418.79 million worth of goods to the U.S. in 2014 with continued growth in 2014. That included US$236 million in U.S.-bound machine tool shipments in the first seven months of 2014, up 5.2% over the same period in 2013; and US$45 million worth of machine tools in July 2014 alone, a remarkable 63.7% increase over the previous July.
The industry's growth is being driven in part by world-class industry clusters in the country's Golden Valley, which is home to more than 1,000 precision machinery manufacturers and upwards of 10,000 downstream suppliers that employ more than 300,000 people. With an annual output of $3 billion, the Golden Valley has the highest output value per unit area and the highest density of any machine tool industry cluster in the world.
About Taiwan External Trade Development Council (TAITRA)
The Taiwan External Trade Development Council was founded in 1970 to promote Taiwan's foreign trade and competitiveness in world markets. Over the past 40 years, TAITRA has played a key role in the development of the Taiwan economy. TAITRA is jointly sponsored by the government and commercial associations and is viewed by all as the business gateway to Taiwan for the international business community. Please visit http://www.taiwantrade.com.tw/ for more information.
Featured Product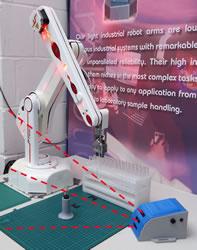 The 6-axis version of the R17HS high speed variant of the R17 robot is now available. As is our policy the 6th axis is an optional bolt-on module. At the same time we have made it even faster and new software eliminates shake and greatly improves repeatability as this video shows. Please see https://www.youtube.com/watch?v=3wG0MeiJ-yE. The video would seem to imply a repeatability of 0.01mm but we are sticking with 0.2mm in the spec. The motor specialist was able to tune the motors from the other side of the pond. My first reaction when we put power on and entered the first commands was to jump back in amazement (and maybe an expletive). Tip speed is now 3m/s; that's 3 times as fast as its nearest competitor yet costs half the price. I love it when a plan comes together.