Stratasys collaborates with Jenny Wu and unveils LACE, a new ready-to-wear 3D printed jewelry collection available in Autumn 2014
MINNEAPOLIS & REHOVOT, ISRAEL, September 2, 2014 - Stratasys Ltd. (Nasdaq:SSYS), a global leader of 3D printing and additive manufacturing solutions, today announced that it has collaborated with architect and designer Jenny Wu, of Oyler Wu Collaborative, on her first 3D printed jewelry collection. Entitled, 'LACE', the collection comprises a line of 3D printed wearable designs including necklaces and rings inspired by line-based geometry and intricate, organic movement, standing-out as a bold statement on the body.

"I wanted to design a range of jewelry that could be avant-garde yet wearable, and approached it from my architectural heritage of spatial and line-based geometries to form a bold but soft spectacle for the body," Jenny Wu explains. "From my 15 years' experience with 3D printing for architectural projects, I knew it would deliver the capabilities to realize my creative vision for jewelry. 3D printing offers an elegant aesthetic and enables different layers and densities of fine and detailed pieces to be intertwined and produced within hours instead of months."
The leading LACE design is the Tangens necklace. This will be available in black, white, and translucent and was recently worn by Stratasys co-founder, Lisa Crump at the Solid Freeform Fabrication Symposium (August 2014). The intricately-detailed necklace has interlocking elements created with the Stratasys Fortus 400mc Production System, utilizing the benefits of tight tolerances, fine details, durability and translucence possible with Stratasys FDM technology.
"I enjoy the possibilities that FDM offers, as it enables me to directly manufacture jewelry pieces as opposed to just prototype," Wu continues. "After some experimentation, I found that the ABS-M30 in particular was the best 3D printing material for Tangens. Its ability to execute accurate complex geometry with striations from the layering process gives the necklace a unique velvety quality, as well as a robust, thick structure, which results in a wearable item that is elegant, yet durable."
Ringleader: Papilio, the first commercially available LACE piece, recently sold via Paddle8
Wu has also collaborated with Stratasys subsidiary Solidscape® to produce the Papilio ring, which evokes the beautiful fluttering movement of a butterfly wing. Solidscape's MAX² 3D Printer delivered high precision and a refined surface finish - ideal for small jewelry items. Once the complex Papilio wax model was 3D printed, it was then cast in sterling silver using the lost wax investment casting process. The Papilio was then finished and hand polished to achieve its lustrous appearance. This LACE piece was recently sold via Paddle8, the International fine art and collectibles auction site.
Wu adds: "3D printing is transforming the design industry and the possibilities for the fashion and accessories markets are endless. Before it was seen as avant-garde, but it's now reaching the consumer with cutting-edge ready to wear products. I can't wait for LACE to be released to the market in the autumn and hope to collaborate with Stratasys on other designs."
Naomi Kaempfer, Creative Director Art Fashion Design for Stratasys, adds: "It is a pleasure to share ideas and work closely with such a strong minded and distinguished designer, especially one who is so familiar with 3D printing capabilities. It encourages us to keep pushing more boundaries with our 3D printing technology.
"When Jenny wore her first necklace, she was frequently asked where it could be purchased and now this is possible. I believe that these collaboration items in the LACE collection will be a great success and predict that there will be many more," concludes Kaempfer.
The LACE collection is in the final production stage and will be available Autumn 2014 from: http://www.jennywulace.com/
Featured Product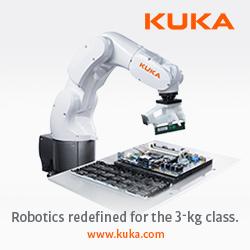 Great advances often start with small steps - in manufacturing cells measuring only 600 × 600 mm. Here, the KR 3 AGILUS is in its element. Particularly in the case of small parts and products which must be produced in a minimum of space. KUKA expertise, concentrated into the smallest of spaces, is setting new standards for the 3-kg class. The lightweight robot masters various tasks with agility, dynamism and maximum precision, leading to high flexibility in production - even when it comes to extremely narrow spaces.