Helukabel's Traycontrol 550 TPE control cable is approved for open, unprotected installation in cable trays from power sources/control units to the machine.
Helukabel will unveil the Traycontrol 550 TPE at IMTS in Chicago from September 8-13, 2014 at booth E-4925. The Traycontrol 550 TPE is a flexible, oil-resistant control cable with blue- or red-colored conductors that is approved for open, unprotected installation in cable trays from power sources/control units to the machine. The Traycontrol 550 TPE was developed to help offset the need for PUR cables in tray applications. The specially blended TPE has been designed to perform as well as standard PUR cables with the added benefit of being able to transition from cable trays to free air, an installation method not permitted for PUR cables.

The special combination of TC-ER, PLTC-ER and ITC-ER allows this cable to be used as a connecting cable for AC, DC or control wiring in accordance with NFPA 79 Edition 2007. Its outstanding oil resistance (Oil Res I & II) guarantees a long service life for machine tools in industrial applications located in dry, damp and wet environments such as the automotive, food and beverage industries, or other various production lines found in harsh locations. Other features include a -40°C to +105°C operating range and UL and CSA approval and it is available in 18 AWG and 16 AWG.
CFE Media will sponsor the 2014 Global Automation and Manufacturing Summit on Sept. 10 starting at 8:15 a.m. in Room W190 in the West Wing of McCormick Place.
To learn more about IMTS, the IMTS 2014 Conference, and to register, visit IMTS.com. Conversations within the IMTS community are going on at:
Twitter: https://twitter.com/IMTS_2014 or @IMTS_2014
LinkedIn: http://www.linkedin.com/groups/IMTS-2014
Facebook: https://www.facebook.com/IMTS.show
Featured Product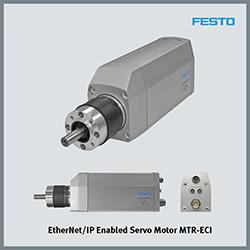 Mechatronic Motion Solutions from Festo is a unique system of components, modules, and software. It integrates all types of pneumatic, servopneumatic and (electro)mechanical automation motion and combines them according to your task. Irrespective of the control system environment you use, Mechatronic Motion Solutions always provides the appropriate interfaces. The fingers can be actively moved and their strength amplified; the operator's hand movements are registered and transmitted to the robotic hand in real time. The objectives are to enhance the strength and endurance of the human hand, to extend humans' scope of action and to secure them an independent lifestyle even at an advanced age.