Industry experts to speak on additive manufacturing, lasers and advanced materials.Technology stations to feature interactive 3D printing experience and laser marking.
DEARBORN, Mich. September 05, 2014

SME to Showcase Key Manufacturing Technologies and Trends via Demonstrations and Presentations at IMTS 2014
Industry experts to speak on additive manufacturing, lasers and advanced materials
Technology stations to feature interactive 3D printing experience and laser marking
SME, an organization that connects manufacturing professionals to essential resources and content, will feature a speaker lineup, technology stations and interactive demonstrations at its booth (N-7470) at the 2014 International Manufacturing Technology Show (IMTS). The activities will focus on important manufacturing technologies and innovations, including additive manufacturing, lasers and advanced materials.
"We are pleased to partner with these key industry professionals and companies from some of the world's largest manufacturers," said Debbie Holton, managing director of industry strategy and events, SME. "SME strives to educate and advance manufacturing knowledge and by partnering with key manufacturing thought leaders we will showcase trends and useful information at the SME booth."
SME challenges all attendees at IMTS to take the Wind Turbine Challenge. Participants will be able to pick their wind turbine's blade length, height, angle and number of blades, watch as it is 3D printed and test its revolutions per minute (RPMs). Booth attendees can compete with other attendees in a battle of skills, wits and perseverance the find the best wind turbine designer at IMTS. It will also illustrate new innovations in fiber laser marking and laser marking technology. Visitors will get live laser marking demonstrations and also receive a complimentary, personalized SME gift.
All of these activities will take place at the SME booth, located at N-7470 in the McCormick Place North Building, with each of the three main topics featuring a different focus area and presenter daily.
Additive Manufacturing Technology Presentations - 11 a.m. CDT, Sept. 8-13
Laser Technology Presentations - 1 p.m. CDT, Sept. 8-13
Advanced Materials Technology Presentations - 2 p.m. CDT, Sept. 8-13
For a full schedule of the guest speakers, their topics and technology station demonstration, visit sme.org/sme-at-imts.
SME's activities at IMTS will showcase the organization's reach and connections within the manufacturing industry, as well as engage and excite attendees via live interaction. SME's dedication to enhance progress, prosperity and strong communities throughout manufacturing is being advanced by the larger overall experience at the SME booth.
About SME
SME connects all those who are passionate about making things that improve our world. As a nonprofit organization, SME has served practitioners, companies, educators, government and communities across the manufacturing spectrum for more than 80 years. Through its strategic areas of events, media, membership, training and development, and the SME Education Foundation, SME is dedicated to advancing manufacturing by addressing both knowledge and skill needs for the industry. Follow @sme_mfg on Twitter and facebook.com/smemfg.
Featured Product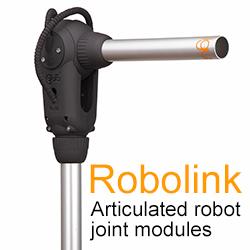 Robolink: Articulated joint modules for robots. igus® now offers a lightweight, maintenance- and corrosion-free range of robot joints for humanoid systems or other automated applications. The carbon-fiber plastic joints can rotate and oscillate freely via four wire ropes. No more expensive milling, cutting or DIY systems. Moving mass is reduced to a minimum. The actuators (engines, pneumatics and hydraulics) and the control module (DP, PC) are kept separate. Contact igus® for more information and free samples.