Conferences deal with establishing or upgrading automation systems
SANTA MONICA, Calif., Sept. 4, 2014 -- Conference sessions on automation will be featured during ATX (Automation Technology Expo) Midwest in Schaumburg, IL, just outside of Chicago, October 15-16, 2014. The sessions include: New Robotic Applications for the Smart Factory Floor, with discussion of planning and workforce training to ensure safe transitions; and Building and Designing a Robust Next Generation Robotics System.

In addition to these automation topics, there will be a full day of conference sessions on 3D printing and another full day on Industrial machine to machine (M2M), investigating how this disruptive technology of machines communicating with one another is enabling greater flexibility, efficiency, and connectivity of information. It will also deal with how to tackle the challenges that arise, such as security.
On the medical side, the MD&M Chicago conference will cover the latest innovations in medical device design, as well as technical training for the medical device industry. New this year is a full day devoted to the "Connected Digital Health."
These conferences and seminars, and more, will take place in conjunction with UBM Canon's co-located trade events: ATX Midwest (formerly known as Assembly & Automation Technology Expo), Design & Manufacturing Midwest, MD&M Chicago (medical design & development), and PLASTEC Midwest. These events bring together thousands of industry professionals to make connections, establish work relationships, and showcase the latest in technology and materials.
About UBM Canon
UBM Canon is the leading B-to-B event producer, publisher, and digital media company for the world's $3 trillion advanced, technology-based manufacturing industry. Our print and electronic products deliver trusted information to the advanced manufacturing market and leverage our proprietary 1.3 million name database to connect suppliers with buyers and purchase influencers. We produce more than 50 events and conferences in a dozen countries, connecting manufacturing professionals from around the globe. UBM Canon is part of UBM plc (UBM.L) a global provider of media and information services for professional B-to-B communities and markets.
About UBM plc
UBM plc is a global events-led marketing services and communications company. We help businesses do business, bringing the world's buyers and sellers together at events and online, as well as producing and distributing news and specialist content. Our 5,500 staff in more than 30 countries are organized into expert teams which serve commercial and professional communities, helping them to do business and their markets to work effectively and efficiently.
For more information, go to www.ubm.com; follow us on Twitter at @UBM_plc to get the latest UBM corporate news; follow @UBM for news and updates from across the businesses and selected members of UBM's Twitterati.
Featured Product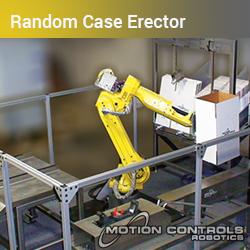 Random Case Erectors are ideal for fulfillment centers and other end-of-line packaging needs. Save money by eliminating changeover downtime. Reduce ergonomic injuries by eliminating repetitive manual tasks. The Random Robotic Case Erector System includes: • FANUC M20iA/20 Robot • Combi gravity case magazine - holds 2 box sizes • Combi bottom flap folder with integrated 3M case sealing head. • Fixed robot base, anchored to the floor • Flexible end of arm tool to pick and erect multiple case sizes to eliminate changeover downtime • System wiring and controls • Color 7.5" touchscreen HMI display for selecting case size • Perimeter guarding with safety interlocks on doors • Programming for Robot, PLC/PMC, HMI and Vision • Complete documentation in electronic format • On-site training and support • Compliance with all applicable robotic safety standards. Alternate safety configuration may be available to allow an operator to changeover a case size in one magazine while the robot continues to work in other magazines. Contact Motion Controls Robotics to learn more about how to implement this system into your current end-of-line operations.