New Cincinnati Facility Provides Application Feasibility Services, Showcases Range of Industrial and Mobile Robotics Products
Pleasanton, Calif., September 10, 2014 - Adept Technology, Inc.

(Nasdaq:ADEP), a leading provider of intelligent robots, autonomous mobile
robot solutions, and services, today announced that it has opened a robotics
application and demonstration center in Sharonville, Ohio, a suburb of
Cincinnati. The new facility allows robotics integrators and end users to
work with on-site Adept application engineers to prove out manufacturing and
materials handling applications using the customer's specific parts and the
latest in Adept robotics technologies, including vision, software, and
conveyor tracking capabilities.
"The new Ohio technology center is another important step for Adept to work
with its customers in providing leading solutions to their needs," said Rob
Cain, CEO of Adept.
The Cincinnati facility joins Adept's Amherst, New Hampshire, and
Pleasanton, California, locations to offer customers in the United States
application feasibility services and product demonstrations. Adept also has
technology centers in Germany, France, Singapore and China. Each facility
houses a range of Adept industrial robots and autonomous mobile robot
products along with supporting technologies such as vision guidance,
conveyor tracking, flexible feeding and others.
About Adept Technology, Inc.
Adept is a global, leading provider of intelligent robots, autonomous mobile
robot solutions, and services that enable customers to achieve precision,
speed, quality and productivity in their assembly, handling, packaging,
testing, and logistical processes. With a comprehensive portfolio of
high-performance motion controllers, application development software,
vision-guidance technology and high-reliability robot mechanisms with
autonomous capabilities, Adept provides specialized, cost-effective robotics
systems and services to high-growth markets including medical, electronics,
food and semiconductor; as well as to traditional industrial markets
including machine tool automation and automotive components. More
information is available at www.adept.com.
Featured Product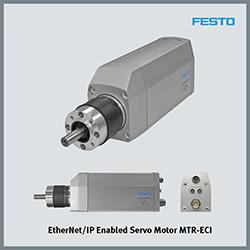 Mechatronic Motion Solutions from Festo is a unique system of components, modules, and software. It integrates all types of pneumatic, servopneumatic and (electro)mechanical automation motion and combines them according to your task. Irrespective of the control system environment you use, Mechatronic Motion Solutions always provides the appropriate interfaces. The fingers can be actively moved and their strength amplified; the operator's hand movements are registered and transmitted to the robotic hand in real time. The objectives are to enhance the strength and endurance of the human hand, to extend humans' scope of action and to secure them an independent lifestyle even at an advanced age.