Systems integrators and those who use apps developed specifically for the iPad need only search under the name GCZ Catalog.
ANN ARBOR, MICHIGAN. Güdel now offers its entire catalog of linear motion components, tracks and gantries as a free app from the Apple iTunes Store. Systems integrators and those who use apps developed specifically for the iPad need only search under the name GCZ Catalog.

Güdel linear motion technology is used in traditional and leading-edge applications for robots and automation, especially in the manufacturing sector, transportation and automotive industry, energy supply, logistics and warehousing.
"Automation workers and systems integrators routinely turn to online resources," said Joe Campbell, Vice President, Sales and Marketing at Güdel Inc. in Ann Arbor, Michigan. "GCZ Catalog is on Apple iTunes so anyone with an iPad who builds and specifies automation has easy access to the latest generation of linear motion technology."
Güdel has manufacturing and service locations around the globe so the app includes several language options. It is available in English with translations in German, Spanish, Dutch, French and Russian. There are specifications, drawings and photo galleries to guide the user toward practical, ready-to-use information.
"Güdel is internationally known for robust and reliable components like racks, pinions and gearboxes as well as complete modular systems. In fact, Güdel is the only track manufacturer that is vertically integrated from linear motion technology through the final track product," said Campbell. "Güdel has been doing linear motion for generations, and this app is a modern convenience for everyone in automation, especially innovative minded systems integrators and OEMs."
The GCZ Catalog app on Apple iTunes is one of several online resources offered by Güdel. The Güdel website offers a unique "Robot Sizing Tool" to help engineers select the right robot for a specific gantry or Trackmotion. Virtually all robot brands are supported by Güdel and the robot sizing tool is updated constantly for new models. Users can also access CAD drawings and the Güdel catalog from www.gudel.com/us.
About Güdel Inc.
Güdel Inc. is the US subsidiary of Güdel Group, a global manufacturer of robotic automation products, systems and services for welding and metal fabrication. Güdel supplies linear motion modules, robot track motion units, gantry robots and components to OEMs, systems integrators and machine builders serving the automotive, aerospace, logistics, heavy industrial and power generation industries. Güdel Inc. is headquartered in Ann Arbor, Michigan with 45,000 square feet in dedicated manufacturing space, providing North American customers with engineering, design, production, and, customer service support.
Güdel Inc also operates a satellite engineering office in Troy, MI.
Featured Product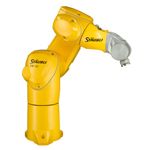 Stäubli offers a complete range of robotic tool changing systems for payloads of 20 kg to 1,530 kg and torsion moments from 30 to 12,500 Nm, designed for use in virtually every industry. The tool changers adapt to customer-specific applications with different modules for media, data, power, etc. The new MPS 130 robotic tool changer is powerful, very robust, and designed for a huge range of applications. It features multiple couplings for air/vacuum connections, and can be equipped with connectors for data and electrical transmission. Very compact dimensions, with a coupled height of only 67 mm, make the MPS 130 the first choice for applications requiring a high number of mating cycles.