"Acuity" Feature Enables "Lynx" Mobile Vehicle Navigation in Extremely Dynamic Environments
PLEASANTON, Calif. -- Adept Technology, Inc. (Nasdaq:ADEP), a leading provider of intelligent robots, autonomous mobile robot solutions, and services, today announced that it has launched "Acuity," a new patented, proprietary technology for its "Lynx" intelligent, autonomous mobile robots. Acuity is a breakthrough localization feature that allows Adept Lynx mobile robots to navigate in environments where the surroundings are extremely dynamic.

"Adept's Acuity technology takes Lynx mobile robot autonomous navigation to a new level," said Terry Hannon, chief business development and strategy officer at Adept. "Acuity enables a Lynx vehicle to effectively operate in areas where features change dramatically. This is especially important in applications such as materials transport in busy, high-traffic warehouses where an autonomous robot's navigation must allow for constant movement of people, pallets, carts and forklifts, and shelves being emptied and refilled."
Acuity is available to customers as a Lynx system option for use in the most demanding settings. Standard Lynx systems can already operate in environments where the surrounding features change up 80 percent. Acuity uses overhead static cues to pinpoint the robot's location, allowing operation where the horizontal environment is even more dynamic. Applications range from work-in-progress (WIP) transport in busy manufacturing settings to materials handing in dynamic warehouses and operation in facilities with wide open spaces.
"Adept Lynx mobile robots are providing customers with state-of-the-art performance in autonomous materials movement, encouraging faster, more dependable goods delivery and more efficient facility operations," said Hannon. "Adept's Acuity feature boosts Lynx robots' already exceptional navigational capabilities to an extraordinary level, broadening the opportunity for system deployment into an even greater number of settings. It's yet another testament to Adept's leadership in intelligent autonomous mobile vehicle technology."
Developed for rapid, reliable materials transport in a variety of industries, Lynx mobile robots feature the on-board intelligence to choose the best path to complete a task. Lynx systems require no facility modifications to deploy and simply run in conjunction with the user's existing enterprise software. Lynx mobile robots work safely alongside personnel and are ideal for use in large manufacturing facilities, warehouses and distribution centers, and for "clean" wafer pod handling in the semiconductor industry.
About Adept Technology, Inc.
Adept is a global, leading provider of intelligent robots, autonomous mobile robot solutions, and services that enable customers to achieve precision, speed, quality and productivity in their assembly, handling, packaging, testing, and logistical processes. With a comprehensive portfolio of high-performance motion controllers, application development software, vision-guidance technology and high-reliability robot mechanisms with autonomous capabilities, Adept provides specialized, cost-effective robotics systems and services to high-growth markets including medical, electronics, food and semiconductor; as well as to traditional industrial markets including machine tool automation and automotive components.
Featured Product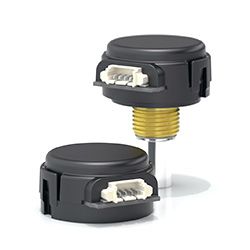 High resolution. Limited space. Not a problem for our latest miniature encoders that provides precise feedback and is easy to install within smaller-sized applications. Now available in 400 and 500 CPRs. Coming in at about the size of a nickel, we've added our proprietary Opto-ASIC sensor technology and improved quadrature for even greater motion control. Product Features: 10 resolutions up to 360 CPR, plus new 400 and 500 CPR resolution; 288 configurations available, including single and differential output; Compact form factor • 0.866 inch (in) / 22.00 millimeter (mm) package outside diameter • 0.446 in / 11.33 mm package height • Fits NEMA 8, 11, 14 and 17 motors; Simple and efficient assembly process • Four-piece construction • Push-on hub disk design, patent pending; 100 kilohertz frequency response; Shafted version up to 0.25 in / 6.25 mm diameter.