Advanced Designs Created in Colorado R&D Lab
FORT COLLINS, Colo., Sept. 16, 2014 -- Today, Water Pik, Inc., the leader in replacement shower heads, released video highlighting its history of designing product innovations using 3D printer technology. The company has used 3D printer technology for nearly 20 years to speed the design process and create high-performing, breakthrough products.

Rapid Prototyping Creates High Performing Shower Heads
3D printing gives Water Pik engineers the ability to fine-tune and design superior shower heads through rapid prototyping. The process is as much as 10x faster than traditional prototyping, providing engineers time to refine designs to meet the company's rigorous shower head performance requirements and address consumer needs.
The technology also allows Water Pik designers to experiment and create product innovations. The new Waterpik® SprayShaper™ shower head and the EasySelect® spray selector technology are examples of advanced product designs developed with this process.
"Water Pik's history and position of being the number-one branded replacement shower head company could not have been achieved without the ability to constantly introduce new innovative products—all developed using 3D printing over the past two decades," said Ken Hair, Vice President of New Products and Engineering at Water Pik.
Video Tour Highlights 3D Printer Prototyping
The video tour released today shows the prototyping process, providing an inside look at the 3D printer technology in place at Water Pik. It also demonstrates how shower heads are tested to meet Water Pik's rigorous OptiFLOW® technology performance standards. OptiFLOW® is the power behind Waterpik® shower heads.
The full video is available on the company's web site at www.waterpik.com/shower-head/blog/3d-printer-video/.
About Water Pik, Inc.
Water Pik is a leading developer, manufacturer, and marketer of innovative personal healthcare products sold under the Waterpik® brand name. The Company has developed and introduced many products that are considered the first of their kind and have led to the formation of new markets, including the pulsating shower massage. Waterpik® shower heads are sold through a variety of channels, including mass-merchandisers, DIY and specialty retailers. Headquartered in Fort Collins, CO, the Company operates facilities in the United States, Canada and the United Kingdom. For more information, visit the Water Pik, Inc. Web site at www.waterpik.com.
Featured Product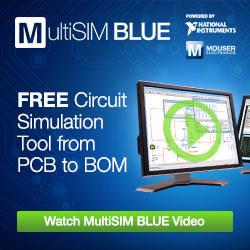 Powered by NI, MultiSIM BLUE Upgrade includes schematic capture, simulation, PCB layout, BOM-to-cart capabilities using only one tool. No more switching between different programs for circuit design. Perform MCU co-simulation. New voltage, current and power probes as well as faster active analysis mode are also available. Plus, it even comes with an expansive database of new components from industry-leading manufacturers. Discover why EDN named MultiSIM BLUE a HOT 100 Product of the Year.