UP BOX Positioned as Best Choice for Professional User
BEIJING, Sept. 18, 2014 -- Beijing Tiertime Technology Co. Ltd. (Tiertime) announced today the global launch of its new desktop 3D printer, UP BOX. Targeting professional and educational users, UP BOX represents the third, ground-breaking model in the award-winning, UP Series of desktop 3D printers.

The UP BOX builds on the rock-solid performance of the UP Plus 2 and the industry leading, price/performance value of the UP mini, by adding the feature that many users have been waiting for, Larger Build Volume, 255x205x205mm, or 10x8x8inch (WxHxD) while increasing the print resolution to a super-fine 0.1mm and accelerating printing speed up to 30% faster than the UP Plus 2.
In addition to finer print resolution and printing efficiency, UP BOX boasts three innovative "New" features:
*Fully automated platform leveling with automatic calibration with no human intervention required, providing a seamless 3D printing experience
*Enclosure with Air Filtration System that keeps your environment green by minimizing operational noise and containing any fumes that may result from the printing process
*Light-Pulse functional LED, mood-lighting that gives your UP BOX heartbeat by displaying on-going print-status
"New" UP features are fully integrated with proven UP standards like UP Software with Smart Support, Fully-Heated Build Platform for consistent, warp-free ABS printing and UP's industry-leading 1-Year Limited Warranty and Service.
"Our goal is to be the most reliable provider of 3D technologies and solutions to our customers around the world," said Tiertime's General Manager, Mr. Guo Ge, "The UP BOX is proof that we meet the needs of professional users and demonstrate Tiertime's continuing leadership in 3D technology."
Smart Support is Tiertime's proprietary, auto-support-structure generation algorithm that automatically produces easily, removable support-structure during printing process. This ensures droop-free output by allowing difficult and complex designs to be printed with ease. In addition, the UP software features a user-friendly interface and comprehensive printing functions which new users and fans of the UP series will find easy to operate.
UP BOX is priced at $1899 in US market as referenced pricing globally, and will be available for purchase worldwide November 2014, through Tiertime's global distribution partners and major retailers such as Amazon.com.
About Tiertime
Beijing Tiertime Technology Co., Ltd. (Tiertime) is an industry leader in 3D technologies and is proud to be Asia's biggest 3D printing solution provider in the global 3D printing market. Tiertime designs and manufactures the industrial scale, rapid-prototyping series, Inspire, and the award-winning UP Family of Desktop 3D Printers. Tiertime is headquartered in Beijing, China, and has U.S. divisions in California & New York.
Featured Product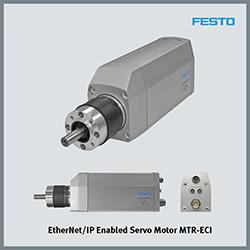 Mechatronic Motion Solutions from Festo is a unique system of components, modules, and software. It integrates all types of pneumatic, servopneumatic and (electro)mechanical automation motion and combines them according to your task. Irrespective of the control system environment you use, Mechatronic Motion Solutions always provides the appropriate interfaces. The fingers can be actively moved and their strength amplified; the operator's hand movements are registered and transmitted to the robotic hand in real time. The objectives are to enhance the strength and endurance of the human hand, to extend humans' scope of action and to secure them an independent lifestyle even at an advanced age.