Expansion of FIRST Robotics Programs Increases STEM Opportunities in Arizona
CHANDLER, Ariz--Microchip Technology Inc. (NASDAQ: MCHP), a leading provider of microcontroller, mixed-signal, analog and Flash-IP solutions, and AZFirst, an Arizona 501(c)3 organization supporting the FIRST® (For Inspiration and Recognition of Science and Technology) robotics competitions, today announced that Grand Canyon University (GCU) will host the first annual FIRST Arizona West Regional Competition, from April 1-4, 2015, at its Phoenix campus. This second regional competition is being launched to accommodate the growth of Arizona's existing regional competition, which has been held every year since 2003.

Thirty-six high-school robotics teams will compete for honors and recognition that reward design excellence, sportsmanship and teamwork. The event is free and open to the public. FIRST was founded in 1989 to inspire young people's interest and participation in Science, Technology, Engineering and Math (STEM). It offers a continuum of hands-on programs, from elementary school through high school, that engage and inspire students via the building of robots for competition.
The FIRST Robotics Competition (FRC) high-school teams have just six weeks to solve the season's assigned problem, using the same kit of parts and a standard set of rules. Registration for the season begins September 24, 2014, and the new game challenge will be announced at the kickoff on January 3, 2015. Every year, the game rules change and the teams work in alliances to win the event. Winning teams can advance to the FIRST World Championship in St. Louis, Missouri on April 22-25, 2015. Any student on a FIRST team is eligible to apply for more than $20 million in scholarships. The existing regional event, now renamed the FIRST Arizona East Regional Competition, will once again be held March 19-21, 2015 at Hamilton High School, 3700 S. Arizona Avenue, Chandler, AZ.
"We are excited to welcome Grand Canyon University as the host for the new FIRST Arizona West Regional Competition," said Steve Sanghi, president and CEO of Microchip Technology and member of the FIRST Board of Directors. "FIRST programs have grown dramatically since Microchip Technology Inc., as the organizing sponsor, brought this event to Arizona in 2003. Over the years, dozens of sponsors have supported this effort. With the growth of FIRST in Arizona, we now require two regional events to accommodate the demand for STEM events, and GCU has graciously stepped forward, offering their arena as a second competition location for the 2015 season. The venue is ideal for an event of this magnitude, and will showcase the results of hands-on education and robot-building at their finest."
Fifty percent of Grand Canyon University students are studying the sciences, and the school is bolstering its STEM offerings even further with the launch of computer science and information technology programs this fall. It also has plans for three engineering programs in 2015.
"Grand Canyon University is excited to bring these dedicated, creative students to our campus for this exciting STEM competition," Brian Mueller, president of GCU, said of the FIRST Arizona West Regional. "They are our future engineers, inventors, entrepreneurs and leaders, and we are proud to offer GCU as a venue to display their skills and ingenuity and see technology in action."
For more information about either of the two FRC Arizona Regional events, taking place on March 19-21, 2015 and April 1-4, 2015, or to sponsor, volunteer, mentor or start a team, contact FIRST Regional Director Carol Popovich at carol.popovich@microchip.com, (480) 792-7938 or Cell (480) 335-2091.
Resources
High-res FIRST logo Available Through Flickr or Editorial Contact (feel free to publish): http://www.microchip.com/get/7NUN
Follow Microchip:
RSS Feed for Microchip Product News: http://www.microchip.com/get/CH91
Twitter: http://www.microchip.com/get/53S1
Facebook: http://www.microchip.com/get/WBUT
YouTube: http://www.microchip.com/get/C76B
About Microchip Technology
Microchip Technology Inc. (NASDAQ: MCHP) is a leading provider of microcontroller, mixed-signal analog and Flash-IP solutions, providing low-risk product development, lower total system cost and faster time to market for thousands of diverse customer applications worldwide. Headquartered in Chandler, Arizona, Microchip offers outstanding technical support along with dependable delivery and quality. For more information, visit the Microchip website at http://www.microchip.com/get/Q4N1.
About Grand Canyon University
Grand Canyon University was founded in 1949 and is Arizona's premier private Christian university. GCU is regionally accredited and emphasizes individual attention for both traditional undergraduate students and the working professional. GCU offers traditional programs on its growing campus, as well as online bachelor's, master's and doctoral degree programs. The university's curriculum fuses academic and clinical rigor with Christian values to prepare its students to be skilled, caring professionals. For more information about GCU, visit http://www.microchip.com/get/6GTQ.
About FIRST
Accomplished inventor Dean Kamen founded FIRST (For Inspiration and Recognition of Science and Technology) in 1989 to inspire an appreciation of science and technology in young people. Based in Manchester, N.H., FIRST designs accessible, innovative programs to build self-confidence, knowledge, and life skills while motivating young people to pursue opportunities in science, technology, and engineering. To learn more about FIRST, go to http://www.microchip.com/get/KAST.
Featured Product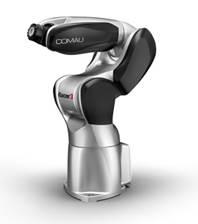 Racer3 is a powerful, high-speed, 6-axis articulated robot featuring a payload of 3kg and a reach of just 630 mm. Built from high-strength aluminum, the newest innovation in Comau robotics is lightweight and can be easily mounted on benches, walls, ceilings or on inclined supports. The third robot within the award-winning Racer family, Racer3 is Comau's response to the growing demand for fast, cost-effective robotic automation within small to medium-sized enterprises and emerging countries. Racer3 is intended for general industry use to increase productivity and reduce overall costs by automating industrial applications. It combines field-proven technology and enhanced dexterity with a keen focus on safety, design and product aesthetics. With a streamlined design and brushed metal exterior, the new powerhouse of a robot combines beauty and speed together with absolute precision and repeatability. Primary applications include assembly, material handling, machine tending, dispensing and pick & place.