Local Motors gets behind the wheel for historic ride in Chicago at IMTS – International Manufacturing Technology Show
CHICAGO— September 23, 2014 — After a grueling six-day week that included nearly round-the-clock work, Local Motors, together with Cincinnati Incorporated, Oak Ridge National Laboratory and AMT - The Association For Manufacturing Technology, unveiled the world's first 3D-printed, drivable vehicle. Called the Strati, the car took a victory lap around McCormick Place early on Saturday, September 13, 2014 with Local Motors CEO John B. Rogers, Jr., at the helm, accompanied by Doug Woods, president of AMT.

The Strati was built in three phases during the six-day show. In phase one the car was 3D-printed on a Cincinnati Incorporated BAAM (Big Area Additive Manufacturing Machine) over 44 hours using cutting edge technology called additive manufacturing. Phase two, known as subtractive manufacturing, included one day of milling on a machine provided by Thermwood. Once complete, the third and final phase was rapid assembly, in which a team led by Local Motors put the finishing touches on the world's first 3D-printed car. Then, the key was turned and the vehicle set off on its maiden voyage, marking an important moment in history.
"At Local Motors, we are changing the way people move," said John B. Rogers, Jr., CEO and co-founder of Local Motors. "Using 3D printing, we have reimagined how cars are created using modern manufacturing techniques. The results are astounding. We have reduced the amount of car parts from 25,000 to less than 50, proving that we can take a car from designed to driven in less than six months. That is the game changer in the automotive world."
A team of industry experts came together to build the Strati, including SABIC Innovative Plastics, who provided the carbon reinforced ABS Plastic used to 3D print some of the first iterations of the car. Renault donated the powertrain from the Twizy. Siemens provided the Solid Edge® software for the structural design elements and Fifteen52 built custom wheels to match the design.
Solid Edge was integral in preparing the Strati for 3D printing. The mechanical component parts for the Strati were leveraged from the Renault Twizy. As the design files were not initially integrated with the design of the 3D printed portion of the car, virtually all of the components had to be to fit onto the new "chassis." Alex Fiechter, Head of Innovation at Local Motors, explained how Solid Edge provided the answer, "by enabling us to easily import and modify the component parts to design our own intermediate structures that would reliably mount to the ABS/Carbon material extruded by the 3D printer."
About Local Motors
From bytes-to-bits, the Local Motors platform empowers anyone to design, build and sell the world's coolest machines. The platform combines global co-creation and local micro-manufacturing to bring hardware innovations to market at unprecedented speed. The Company stewards a global co-creation community made up of enthusiasts, hobbyist innovators and professionals that come together to solve complex mechanical problems. The Company operates a growing global network of micro-factories, each operating as a nexus for next generation product development, where innovators create amazing products and consumers come to marvel and shop. localmotors.com
About IMTS - International Manufacturing Technology Show
The largest and longest running manufacturing technology trade show in the United States is held every other year at McCormick Place in Chicago, Ill. IMTS 2016 will run September 12-17. IMTS is ranked among the largest trade shows in the world. Recognized as one of the world's preeminent stages for introducing and selling manufacturing equipment and technology, IMTS attracts more than 114,000 visitors from every level of industry and more than 112 countries. IMTS is owned and managed by AMT - The Association For Manufacturing Technology. IMTS.com
About AMT - The Association For Manufacturing Technology
AMT - The Association For Manufacturing Technology represents and promotes U.S.-based manufacturing technology and its members—those who design, build, sell and service the continuously evolving technology that lies at the heart of manufacturing. Founded in 1902 and based in Virginia, the association specializes in providing targeted business assistance, extensive global support, and business intelligence systems and analysis. AMT is the voice that communicates the importance of policies and programs that encourage research and innovation, and the development of educational initiatives to create tomorrow's Smartforce. AMT owns and manages IMTS — The International Manufacturing Technology Show, which is the premier manufacturing technology event in North America.
About Cincinnati Incorporated
Cincinnati Incorporated is a 115-year-old machinery builder based in Harrison, Ohio, with the following product lines: CO2 and fiber lasers, Automation, Press Brakes, Shears, Powdered Metal Presses and BAAM (Big Area Additive Manufacturing). With a direct sales and service staff strategically located throughout North America, and parts and technical support based at its manufacturing facility, Cincinnati Incorporated prides itself on Innovation, Endurance and Performance. e-ci.com
Featured Product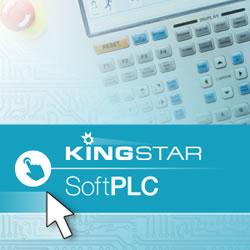 The top machine builders are switching from proprietary hardware-based PLCs, like Allen-Bradley, TwinCAT, Mitsubishi and KEYENCE, to open standards-based EtherCAT-enabled software PLCs on IPCs. KINGSTAR provides a fully-featured and integrated software PLC based on an open and accessible RTOS. KINGSTAR Soft PLC also includes add-on or third-party components for motion control and machine vision that are managed by a rich user interface for C++ programmers and non-developers alike.