Drones are also being deployed to assist law enforcement in searches for missing persons and by nonprofits in peacekeeping and peacebuilding efforts.
WASHINGTON, Sept. 26, 2014 -- As Unmanned Aerial Vehicles - or drones - become more commercially available and the list of industries utilizing the technology expands, companies should be aware of the stringent transportation regulations applicable to the lithium ion batteries that power virtually every UAV.

These transportation regulations address the packaging, testing and size limitations (in Watt-hours and kilograms) of lithium ion batteries and UAVs (packed with lithium ion batteries). The rules also specify the number and size (in Watt-hours) of lithium ion batteries that may be carried on aircraft by passengers.
Major companies including Amazon and Google as well as the agriculture, film, journalism, telecommunications and real estate industries are discovering ways to maximize the commercial viability of small unmanned aircraft. Drones are also being deployed to assist law enforcement in searches for missing persons and by nonprofits in peacekeeping and peacebuilding efforts. Researchers are using the unmanned aircraft to study and save wildlife.
A report by the Association for Unmanned Vehicle Systems International found the industry could create more than 100,000 new jobs and over $80 billion in economic benefits within 10 years after integration of UAV's into the U.S airspace system.
The Federal Aviation Administration is expected to announce proposed rules for small commercial drones later this year. However, lithium ion batteries, the engine of the UAVs, are already stringently regulated by the FAA as hazardous materials (also known as "dangerous goods"). The FAA and other transport authorities around the world issue regulations that shippers of UAVs must comply with and that passengers must adhere to when carrying lithium ion batteries onboard an aircraft. Failure to comply with these regulations can result in significant civil penalties levied against companies whose employees are found to be in violation of these regulations.
If a company's employee is traveling with a UAV and spare lithium ion batteries, the U.S. and international hazardous materials regulations strictly prohibit spare lithium ion batteries from being placed in checked baggage. In addition, lithium ion batteries carried on the aircraft by passengers generally may not exceed 100 Watt-hours. However, slightly larger lithium ion batteries exceeding 100 Wh, but not exceeding 160 Wh, may be carried onboard the aircraft with the approval of the airline. No more than two of these slightly larger lithium ion batteries may be carried on the aircraft.
For more information, contact George Kerchner at PRBA at prbatt@gmail.com or 202.719.4978. In addition, the U.S. Department of Transportation and International Air Transport Association (IATA) have posted useful information on their websites regarding the lithium battery transport regulations and carry-on provisions. See http://safetravel.dot.gov/ and http://www.iata.org/whatwedo/cargo/dgr/Pages/lithium-batteries.aspx
About PRBA
The members of PRBA power the consumer electronics revolution. We deliver a safe, efficient, and essential power source for portable electronic equipment such as notebook computers, cell phones, power tools, PDAs, and MP3 players, as well as hybrid and electric vehicles. PRBA members produce approximately 70 percent of the world's lithium ion cells and account for billions of dollars in annual worldwide sales. With more than 70 members, PRBA is widely recognized as the nation's authoritative source for information on rechargeable batteries. Visit PRBA online at www.PRBA.org.
Featured Product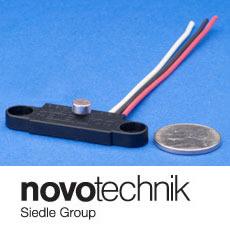 Vert-X 05E Series of dual angle/speed sensors. The series features easy mounting in small and narrow spaces with a 5 mm body depth and mounting flanges with metal inserts. The sensors make measurements only 6 mm from edge of product for close-to-wall measurement applications. Vert-X 05E Series sensors measure angles from 0 to 360°, rotational speed and direction with repeatability to 0.1°.