MotoSight 2D adds functionality to Yaskawa Motoman's FS100 and DX100 robot controllers.
Dayton, OH - MotoSight 2D, a powerful 2D vision application, has recently been enhanced to feature a new pendant-based programming environment and no longer requires a PC. Powered by Cognex, this easy-to-integrate, comprehensive vision solution for Motoman robots includes an IP67-rated Yaskawa camera (MS100, MS200, MS300) and robot controller software. Through the pendant, users can view live camera images, train vision models and assign vision data results to robot variables quickly and easily. Users can also display and edit Improved MotoSight 2D Vision Solution Makes Robot Guidance Easy EasyView® tagged vision data, which allows customization of vision tools and results. With MotoSight 2D, you get powerful EasyBuilder® vision tools and robot macros that permit fast and easy programming of complex vision applications. Additionally, the calibration and initial setup of the vision system has been streamlined to make it even easier to get up and running quickly.

MotoSight 2D adds functionality to Yaskawa Motoman's FS100 and DX100 robot controllers. The FS100 and DX100 controllers use native communications to the vision camera so that it tightly integrates data directly into the robot programming language. Example programs are provided to reduce the setup and configuration time of the system. The robot and camera programs can then be used as a starting point to implement a specific vision solution.
MotoSight 2D is multi-lingual and supports eight languages. Optional Cognex In-Sight® Micro 1050, 1100 and 1400, and 5000- and 7000-series cameras are available.
MotoSight 2D integrates the most powerful vision products available, along with our industry-leading robot performance, to provide unmatched, vision-based application solutions.
About Yaskawa Motoman
Founded in 1989, the Motoman Robotics Division of Yaskawa America, Inc. is a leading robotics company in the Americas. With nearly 300,000 Motoman® robots installed globally, Yaskawa provides automation products and solutions for virtually every industry and robotic application; including arc welding, assembly, coating, dispensing, material handling, material cutting, material removal, packaging, palletizing and spot welding. For more information please visit our website or call 937.847.6200.
Featured Product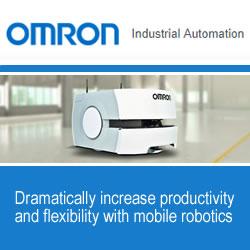 The Omron Adept Lynx Cart Transporter is an Autonomous Intelligent Vehicle (AIV) designed to attach to movable carts and transport them from a pickup location to a drop off location. Applications include line-side inventory replenishment, moving flow racks, transporting Work in Progress (WIP) between process steps, and moving finished goods to the warehouse. The Lynx Cart transporter leverages Natural Feature Navigation to autonomously find a path through the facility without the need for any facility modifications necessary.