VISION will be held in Stuttgart, Germany, November 4-6, 2014. with BitFlow exhibiting in booth #1A05.
WOBURN, MA, OCTOBER 13, 2014 -- BitFlow is continuing to widen its technology dominance in the CameraLink frame grabber (CL) category with the scheduled unveiling of its new Axion-CL, the company's sixth generation CL frame grabber, at VISION, the world's leading machine vision trade fair. VISION will be held in Stuttgart, Germany, November 4-6, 2014. with BitFlow exhibiting in booth #1A05.

"VISION gives BitFlow the industry's full attention for the Axion-CL introduction, along with presenting an important forum to meet with current and potential customers from around the world to show them how to capitalize on the rapidly growing machine vision market," said Donal Waide, Director of Sales, BitFlow. "We'll also be staging booth demos of our Cyton CXP CoaXPress frame grabber that highlights its groundbreaking capabilities."
According to Waide, the Cyton CXP CoaXPress demonstrations will use a combination of area scan and line scan cameras to illustrate how simple it is to switch cameras on-the-fly, and how multiple cameras can be tapped into a single board without compromising data rate speed or performance. Another showstopper will be a demosiacing demonstration that convincingly displays how the Cyton, when coupled with an NVIDIA GPU, can construct a high quality full color image in real time, from a grayscale image encoded with Bayer CFA data..
"The Cyton demosiacing demonstration, in particular, has encouraged the exchange of application ideas," said Waide. "It shows that today's imaging systems are fully capable and ready to deliver with the CoaXPress interface - simply, inexpensively and reliably."
For more information, please call 781-932-2900 or visit www.bitflow.com.
Featured Product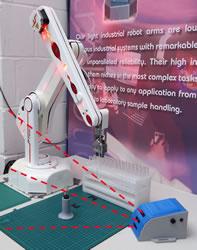 ST Robotics have decades of experience in industrial robots having sold hundreds of robots over the years. The company has 3 main models, R12, R17 and R19 all using a unique simple industrial technology that dramatically reduces costs resulting in the lowest priced industrial robots available. The same uncomplicated technology vastly improves reliability. ST backs this up with a 2 year warranty. Typical applications are routine testing, sample handling and also education. The software is a different paradigm from most robots. It is command based; you type a command and see immediate action. Programming is a building block approach, building confidence as you program in small 'mind-sized bytes'. ST offers free unlimited technical support.