Rotary transfer systems from Morgan offer reliable, high-speed transfer of data transfer in constantly rotating systems.
Morgan's Electrical Carbon business announces that it offers high quality, expertly designed rotary transfer systems, or rotary joints, for a wide range of applications. The rotary transfer systems, featuring high performance engineering, are electromechanical products for the transfer of currents, electrical signals or media from a fixed to a continuously rotating part.

Rotary transfer systems from Morgan offer reliable, high-speed transfer of data transfer in constantly rotating systems. Morgan manufactures a variety of slip rings, which are designed to transfer current, electrical signals or other media from a fixed part to one that is continuously rotating and are used in designs that require a rotational movement of more than 360° without the hindrance of a drag chain.
Also available are complete rotary unions, which provide a seal between a stationary supply pipe and a rotating part such as a drum, cylinder, or spindle, to permit the flow of a fluid into and/or out of a rotating part, and media distributors, which transfer liquid or gaseous media from stationary to continuously rotating elements.
All the standard systems can be combined with each other to form hybrid systems to meet specific customer needs. The modular nature of these products offers Morgan's customers economic solutions with the greatest possible flexibility. The systems are engineered to meet customer requirements and are backed by a comprehensive, global, technical support network.
For more information on our rotary transfer systems, please visit:
http://www.morganadvancedmaterials.com/products/rotary-transfer
Featured Product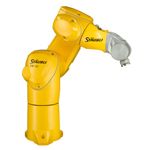 TX2 series of robots: the next generation of fast and precise 6-axis robots. This new robot range is redefining performance with the optimum balance of speed, rigidity, size and envelope. Those pioneer robots can be used in all areas, including sensitive and restrictive environments thanks to their unique features. Known worldwide for the quality of our design and innovation for more than a century, the Stäubli Group has brought its renowned engineering expertise and technological ingenuity to the forefront of robotics. Since 1982, we have built a highly regarded robotics business, and more significantly, transformed the way thousands of manufacturing operations perform. Today Stäubli Robotics is a leading player in robotics around the world, consistently delivering engineering as effective and reliable as our service and support.