µZ's are the smallest off-the-shelf servo drives from ADVANCED Motion Controls
Camarillo, CA- Weighing only 8.5 grams and capable of outputting 10A peak and 5A continuous µZ's are the smallest off-the-shelf servo drives from ADVANCED Motion Controls. Pronounced 'Micro-Z' these plug-in drives are designed for embedded applications in a wide range of industries including: Robotics, Lab Automation, Homeland Security/Military, Electric Mobility, Medical and Packaging.

These full featured drives operate with brushless and brushed servo motors and are available for immediate shipment.
µZ Servo Drives are Current Mode drives that measure 1.5" on a side and output 10A peak and 5A continuous at up to 36VDC.
Designed without the need for a heatsink, the µZ's are true featherweights with a high power to weight ratio. The µZ's are fully protected against over-voltage, under-voltage, over-current, over-heating, and short-circuits.
Depending on the model, the drives interface with digital controllers that have analog ±10 V or PWM/Direction commands. These servo drives require only a single unregulated isolated DC power supply, and are fully RoHS (Reduction of Hazardous Substances) compliant.
Click on the link below for more information on the new servo amplifiers from AMC-
https://www.servo2go.com/search.php?search=10A4&D=PROD
Featured Product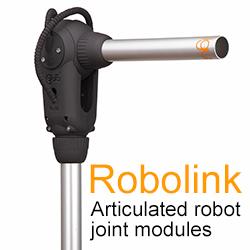 Robolink: Articulated joint modules for robots. igus® now offers a lightweight, maintenance- and corrosion-free range of robot joints for humanoid systems or other automated applications. The carbon-fiber plastic joints can rotate and oscillate freely via four wire ropes. No more expensive milling, cutting or DIY systems. Moving mass is reduced to a minimum. The actuators (engines, pneumatics and hydraulics) and the control module (DP, PC) are kept separate. Contact igus® for more information and free samples.