³KEECKER is a totally new type of computer entirely designed with a collective and immersive digital experience in mind.
Paris, France - October 14, 2014 ­ After taking CES 2014 by storm, Paris-based technology company, KEECKER (www.keecker.com), is launching a Kickstarter campaign on October 14, at noon ET, to make the world¹s first HomePod available to consumers.

Equipped with a powerful video projection and a 360° audio and video camera system, KEECKER¹s HomePod is a complete rethink on computers and allows users to project movies, listen to music, browse the web, make video calls, play video games wirelessly, and even create digital decoration, transforming any surface or room into a big entertainment screen. KEECKER is controlled through a smartphone or tablet app available for iOS and Android devices.
³KEECKER is a totally new type of computer entirely designed with a collective and immersive digital experience in mind. We call it a HomePod, and it¹s going to change the way we merge technology with our daily lives,² said Pierre Lebeau, Founder & CEO of KEECKER.
KEECKER is unlike any other product on the market today. At 11 inches wide and 16 inches long, this smart and wireless device, that looks like a modern version of R2D2, moves effortlessly throughout the home and can travel from room-to-room, bringing exciting digital experiences along with it. Technology today is very personal, but with KEECKER, family, friends and co-workers can gather to consume and discover content collectively and in a whole new way.
³We all love the big screen, but hate being tied to a single space and while tablets, smartphones are great, they¹re very personal. With KEECKER we¹ve combined the flexibility of tablet content with the richness of a home cinema experience by inventing the first collective computer in the world,² added Lebeau.
With KEECKER, family and friends can:
*Turn their room into a home movie theater in seconds.
*³Redecorate² and turn their home into a museum by projecting Kandinsky, or Picasso pieces on their walls or simply change their color for a night.
*Listen to music in any room without having to buy dozens of speakers.
*Set up live video or voice chats freely as KEECKER follows you as you move.
*Take their children for a dive into the depths of the Indian Ocean with immersive images on their bedroom ceiling.
*Check in on their home remotely and move KEECKER to see in any room.
*Wake up in paradise with the beach in front of them.
KEECKER is also equipped with multiple sensors that provide live data about the home, including temperature, CO2 and humidity levels, noise, and movement. Whether out at dinner or halfway around the world, users can access these home analytics via their smartphone and move KEECKER throughout the home to check in and see inside. KEECKER runs on Android, so users can personalize and customize it with the myriad apps available in the Google Play store.
The special Kickstarter edition of KEECKER will start at the discounted price of $1,990, allowing the first 20 funders to save $3,000 off the retail price. Subsequent funders will get a chance to own KEECKER for $2,990, $3,490 or $3,990, depending on when they pledge support. All purchasers will receive a charging station and will be able to download the KEECKER control app for free on Apple¹s App Store and Google Play store.
An introductory developer package is available for $50, which includes the KEECKER SDK and free support from KEECKER engineers. This package allows developers to use their imagination and explore working with movement, additional sensors, flexible projection, as well as create innovative apps not yet on the market. It will also let developers be even more creative and leverage KEECKER's unique features, sensors and capabilities to make the device even more functional and fun.
The 35-day Kickstarter campaign will start October 14 at noon ET and has a fundraising target of $100,000.
About KEECKER:
Founded in 2012 by former Google Product Manager Pierre Lebeau, KEECKER is driven by a strong vision: Magnifying people¹s lives. KEECKER is also the name of the company¹s first flagship product ­ the first HomePod. The HomePod enables users to enjoy and discover the highest quality entertainment wherever they are in their home, without being tied to traditional digital screens. Providing home entertainment, home decoration, and home safety, KEECKER frees content and makes users think ³outside the screen² to share new experiences.
For more information, visit www.keecker.com or follow KEECKER on Twitter @keecker.
Contact: press@keecker.com
Featured Product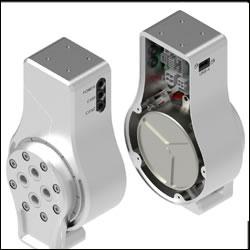 maxon launches the next generation of positioning controllers - the EPOS4. A high performance module with detachable pin headers and two different power ratings. With a connector board, the modules can be combined into a ready-to-install compact solution. Suitable for efficient and dynamic control of brushed and brushless DC motors with Hall sensors and encoders up to 750 W continuous power and 1500 W peak power. The modular concept also provides for a wide variety of expansion options with Ethernet-based interfaces, such as EtherCAT or absolute rotary encoders.