Multiple Large Organizations Have Requested Robots on Site; Negotiations Underway
DENVER, Oct. 22, 2014 -- Gamma 2 Robotics ("G2R") (www.gamma2robotics.com), developers of the world's first commercially available security robot, announced today that it has launched a pilot program to formally structure the installation of robots at prospective client facilities. Initiated with the first robot sale, the program has now been engineered for scale in response to multiple requests following major international security trade shows and conferences, as well from a major Federal agency.

The pilot programs can last from one week to several months, during which the goal is twofold: 1) give the client an accurate picture of how the robot would integrate into their existing team, and 2) allow G2R to produce case studies for use in publications and marketing, and to collect data about the experience to further improve the quality of the product. Specific goal metrics are defined in advance and measured against throughout; following a successful pilot the client would be positioned to purchase one or more robots for use in their facility.
Are you interested in exploring a pilot program for your company? Read our program overview, and also learn about specific roles and responsibilities.
"As ours is the world's first commercially available security robot, we have long understood that there would be a hands-on, experiential education component to our initial sales process," stated G2R President and Co-Founder Jim Gunderson. "The extraordinary level of interest we have received at security industry events and beyond has validated our direction, and we have structured a pilot program for immediate deployment. We are currently in negotiations with multiple large prospective pilot clients, with a number of others in material conversation. We are excited to provide concrete, customized demonstrations of our robot's abilities, and we believe the pilot program will be the key to unlocking widespread adoption."
About Gamma 2 Robotics, Inc. ( www.gamma2robotics.com)
Based in Denver, Gamma 2 Robotics ("G2R") produces intelligent and autonomous robots. After more than five years of development, it has engineered a revolution in commercial security - the "Cybernetic Brain", artificial intelligence that enables autonomous robots to operate independently and without manual supervision or remote control. G2R robots can detect and immediately report on invaders, fire, smoke, water, suspicious new objects and more. It is the only such product commercially available.
Featured Product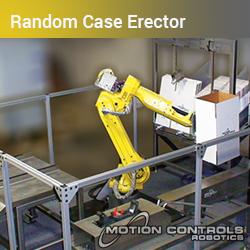 Random Case Erectors are ideal for fulfillment centers and other end-of-line packaging needs. Save money by eliminating changeover downtime. Reduce ergonomic injuries by eliminating repetitive manual tasks. The Random Robotic Case Erector System includes: • FANUC M20iA/20 Robot • Combi gravity case magazine - holds 2 box sizes • Combi bottom flap folder with integrated 3M case sealing head. • Fixed robot base, anchored to the floor • Flexible end of arm tool to pick and erect multiple case sizes to eliminate changeover downtime • System wiring and controls • Color 7.5" touchscreen HMI display for selecting case size • Perimeter guarding with safety interlocks on doors • Programming for Robot, PLC/PMC, HMI and Vision • Complete documentation in electronic format • On-site training and support • Compliance with all applicable robotic safety standards. Alternate safety configuration may be available to allow an operator to changeover a case size in one magazine while the robot continues to work in other magazines. Contact Motion Controls Robotics to learn more about how to implement this system into your current end-of-line operations.