The Robbox UGV from SERA and Nexter Robotics debuted at this year's Eurosatory 2014 tradeshow in Paris with HGH Infrared Systems' Spynel panoramic thermal infrared imaging system installed to provide full 360 degree air surveillance at the MBDA demonstration.
Cambridge, MA October 29, 2014

This past summer, at one of the largest and most prestigious international exhibitions for air and land defense-Eurosatory, a new and innovative UGV or unmanned ground vehicle was introduced to the over 50,000 attendees from 88 different countries. The Mule and Robbox, presented by Nexter Robotics and SERA engineering group of France, can withstand a payload of up to 880lbs and can serve a variety of purposes such as: logistical support for deployed soldiers to limit their carrying loads (arms, fuel, ammunition, food, etc.) for the Mule version and when paired with a Spynel panoramic infrared thermal imaging camera, Robbox becomes a fully operational mobile reconnaissance vehicle with 360 degree surveillance of land and air targets.
HGH Infrared Systems' award-winning Spynel system was installed onto a Robbox at MBDA's booth for a demonstration of effective and fast air target detection. Spynel and a PTZ camera worked in tandem, with the Spynel successfully detecting and tracking all aircrafts approaching the Charles de Gaulle airport in Paris, France, queuing the PTZ camera for further identification. The Spynel model used for the event, the Spynel-S 6000 is able to detect and track an unlimited number of aircrafts at up to 11 km.
Spynel can be added as an additional layer of capabilities already in place as seen with the integration with Robbox or can be reliably used as a cost-effective standalone perimeter security solution. Spynel captures full HD, panoramic images of an entire surrounding in near real-time with automatic intrusion detection and tracking capabilities with a resolution of up to 120 Mpix. Compact as well as easy to deploy, Spynel can provide full situational awareness and surveillance of land, air, and maritime targets for a variety applications such as: airports, critical infrastructures, border and coastal protection, ports and forward operating base protection.
The Spynel, coupled together with the Robbox UGV, aim to reduce soldier fatigue and increase responsiveness in combat by ensuring a rugged and autonomous vehicle equipped to withstand difficult terrains and persistent and automatic perimeter surveillance. HGH Infrared Systems has an active and growing network of partners established in order to continue providing solutions tailored to keeping our service members safe.
About: Founded in 1982, HGH designs, develops, assembles and sells complete high end optronics systems for security, industrial and civil applications. HGH's team of highly qualified engineers is comprised of experts in optics, software, mechanics and electronics and operates in the US, out of Boston, MA. HGH strives to provide advanced and innovative infrared equipment to protect their clients all around the world, while keeping the agility and dedication of a small and passionate team. Speed, flexibility, technical excellence and innovation constitute their core values. HGH has established itself as an international reference for infrared technology innovation through the development of multiple advanced thermal sensors, among which its award-winning real-time 360 degree thermal camera, the Spynel-C - 2008 Product of the Year from Photonics Tech Briefs, 2010 Innovation Prize from the EuroNaval Committee, 2011 Kummerman Award from the French Academy of Marine, 2012 GovSec Platinum Award, 2012 Govies Homeland Security Award, and 2014 Best Video Tracking/Wide Area/Long Range Surveillance from Government Security News' Airport, Seaport, and Border Security Awards Program.
Featured Product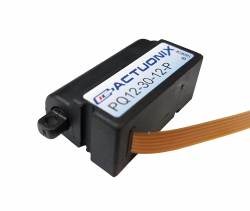 The PQ12-R series of linear servos are the smallest affordable linear servo on the market today. Small enough to fit inside a tic tac box, it's very powerful with a maximum force of over 11lbs. It operates as a direct plug-and-play replacement for standard rotary servos, using the same standard 3 wire connector. Regardless of how you drive your servos, be it with an RC receiver, an Arduino board, or a VEX micro-controller, the PQ12-R servo will function in place of a regular servo, but with the added benefit of providing linear motion. They're available in a 20mm stroke coupled with gear ratio options of 30:1, 63:1 and 100:1 cover a large variety of applications. Our PQ12 is popular used in a variety of robotics applications, medical devices, radio control and 3D printable bionic hands. Our PQ12 is proudly designed in Canada by our in-house team of engineers and thoroughly tested before leaving our facility.