JBT Tackling Tough Industry Issues at PACK EXPO 2014
Sandusky, OH November 02, 2014

With plans to showcase its 125-year history of innovation, JBT Corporation will address a number of issues and challenges common for those in the food processing and packaging worlds. A desired increase in energy savings and environmental stewardship, a need to automate processes, a requirement for better ROI and a business partner that will be there at a moment's notice. Those aren't just the latest industry catch phrases; they're part of JBT's corporate DNA and what the company will highlight with its array of solutions at this year's PACK EXPO International, taking place at Chicago's McCormick Place Convention Center from November 2-5.
At PACK EXPO Booth #3766 (South Hall), JBT will feature solutions from the company's broad portfolio - ranging from automatic guided vehicles to cooking and freezing systems and from canning systems to fruit and juice processing technologies - all under one roof. JBT will challenge the way attendees think about value when evaluating their businesses, boldly asking them "What's it worth to you?"
JBT is asking attendees to consider how reduced labor and increased automation will impact their business' bottom lines, is challenging them to quantify energy savings for their business and is reassuring them that JBT equipment and solutions mean more efficient production from a true business partner.
"Today's food processors are facing business challenges that aren't uncommon in other areas of the industry," says Daniel Plante, director of sales and marketing - North America for JBT freezing and cooking systems, "and we've always been dedicated to providing solutions and designing equipment that helps our customers operate efficiently and profitably."
When PACK EXPO kicks off, JBT will highlight leading processing innovations that deliver expanded hygiene solutions, increased quality control and added payback across categories such as portioning, scanning, cooking and freezing, including the company's DSI J-Scan Inspection System, its patented High Hygiene (HH) single-piece extruded evaporator coil and CIP (Clean In Place) system.
Designed to automate the quality assurance process and increase yield, JBT's DSI™ J-Scan Inspection System scans and sorts product to optimize parameters while matching product mix requirements, portioner capacity and incoming product variation - making a substantial impact on a processor's bottom line. Additionally, hygiene remains a top priority for today's processor and, with the patented High Hygiene (HH) coil for freezers and the CIP system, JBT has removed all of the areas where bacteria can harbor and grow while also automating the cleaning and sanitation processes.
JBT offers and will showcase a comprehensive range of equipment for each stage of the process, including filling, seaming and closing. Filling, whether with aseptic fillers for the fruit and vegetable market or traditional fillers capable of filling everything from peas and milk to jams and baby food, often has special requirements and JBT offers a wide range of products to meet customers' needs. The company's SeamTec is compatible with all fillers available on the market. Available in atmospheric, steaming, under cover gassing and canmaking execution, SeamTec offers a solution for all commonly produced cylindrical cans.
The company will also showcase its Automatic Guided Vehicles, which deliver maximum return on investment by reducing labor and material costs, minimizing product and equipment damage and improving safety, and the Citrus Systems' Multi-Fruit Juicer, known for its ability to produce the sweetest juice with the lowest peel oil and highest yield. Additionally, JBT will demonstrate its spiral technology that's a part of its series of Frigoscandia GYRoCOMPACT freezers and line of spiral ovens, as well as series of pilot sterilizers.
See these innovations at PACK EXPO Booth #3766 in McCormick Place's South Hall.
About JBT
JBT Corporation (NYSE: JBT) is a leading global solutions provider to the food processing and air transportation industries. JBT Corporation designs, manufactures, tests and services technologically sophisticated systems and products for regional and multi-national industrial food processing customers and for domestic and international air transportation customers. JBT employs approximately 3,200 people worldwide and operates sales, service, manufacturing and sourcing operations located in more than 25 countries. For more information, please visit http://www.jbtcorporation.com.
Featured Product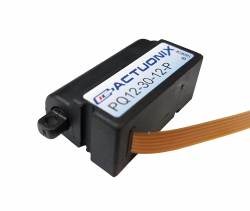 The PQ12-R series of linear servos are the smallest affordable linear servo on the market today. Small enough to fit inside a tic tac box, it's very powerful with a maximum force of over 11lbs. It operates as a direct plug-and-play replacement for standard rotary servos, using the same standard 3 wire connector. Regardless of how you drive your servos, be it with an RC receiver, an Arduino board, or a VEX micro-controller, the PQ12-R servo will function in place of a regular servo, but with the added benefit of providing linear motion. They're available in a 20mm stroke coupled with gear ratio options of 30:1, 63:1 and 100:1 cover a large variety of applications. Our PQ12 is popular used in a variety of robotics applications, medical devices, radio control and 3D printable bionic hands. Our PQ12 is proudly designed in Canada by our in-house team of engineers and thoroughly tested before leaving our facility.