Easiest and Fastest Way for Product Developers and Makers to Create cloud-connected prototypes using XBee ZigBee technology
MINNETONKA, Minn. and MUNICH, Nov. 10, 2014 -- Digi International (NASDAQ: DGII) today announced the launch of the XBee ZigBee Cloud Kit, a new all-in-one kit that allows anyone with an interest in M2M and the Internet of Things to quickly build a wireless hardware prototype, connect it to the Internet, and control it from the cloud.

The XBee ZigBee Cloud Kit is simple enough to help non-engineers get their creations connected to the cloud in 30 minutes and flexible enough for professionals to build rapid prototypes with advanced programming and cloud-based data sets.
Built around Digi's XBee ZigBee Gateway, the XBee ZigBee Cloud Kit includes code examples and powerful tools to easily create cloud-connected projects. It includes access to the Internet which enables remote control of the device and data through a customizable application.
Each kit contains:
*1 XBee Gateway - ZigBee to Ethernet/Wi-Fi
*1 XBee-PRO ZigBee 2.4GHz module
*1 Development board with breadboard
*Basic prototyping components
**Wires, LEDs, Relay, Resistors, Temp Sensor
*Sample Web Application (Runs on Heroku)
**Open Source
**Configurable Widgets
**Integrated with Device Cloud
The XBee ZigBee Cloud Kit's low price point makes it a perfect choice for professional and student prototypers and for product developers interested in quickly creating cloud-connected solutions.
"Connecting hardware creations to the Internet of Things should be easy," said Joel Young, chief technology officer for Digi. "You can build a prototype that integrates Internet connectivity into ZigBee devices based on Digi's bestselling XBee module platform. We're excited to see what great new innovations will flow from this type of prototyping capability."
The XBee ZigBee Cloud Kit is available for $199 MSRP. For more information or to purchase, please visit: http://www.digi.com/zigbeecloudkit.
About Digi International
Digi International (NASDAQ: DGII) is the M2M solutions expert, combining products and services as end-to-end solutions to drive business efficiencies. Digi provides the industry's broadest range of wireless products, a cloud computing platform tailored for devices and development services to help customers get to market fast with wireless devices and applications. Digi's entire solution set is tailored to allow any device to communicate with any application, anywhere in the world. For more information, visit Digi's website at www.digi.com, or call 877-912-3444 (U.S.) or 952-912-3444 (International).
Featured Product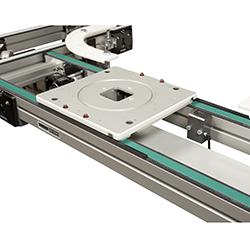 Dorner's 2200 Series Precision Move Pallet Systems feature the latest advancements in pallet traffic management. A unique pin tracking system guides pallets through merges and curves while maintaining product orientation. The fast belt change capability increases efficiency and reduces downtime in assembly automation processes. They are available in lengths up to 25 ft., can handle loads up to 500 lbs. and travel at speeds up to 114 ft/min.