The current limitations of ROS, and how they are being addressed, including in future versions of ROS and new ROS initiatives, is also analyzed.
OYSTER BAY, N.Y.--ABI Research's new report, Robot Operating System (ROS) and Open Source Robotics, analyzes how ROS—open source software libraries, tools, and a run-time environment—reduces the complexity of robotics software engineering, increases the speed of development and deployment, as well as improves the robustness and maintainability of the resulting systems. The report describes the components of the ROS framework, characterizes the adoption rate of ROS and the current state of ROS Industrial—ROS-based solutions for industrial robotics technology—and provides examples of commercial systems currently employing ROS and estimates for future growth. The current limitations of ROS, and how they are being addressed, including in future versions of ROS and new ROS initiatives, is also analyzed.

According to Dan Kara, Practice Director, Robotics at ABI Research, "The complexity, difficulty, and glacial pace of robotics software development has stifled robotics innovation and slowed the rate of commercialization efforts. ROS, an integrated software framework and toolset upon which robotics systems can be constructed and deployed, eases the burden of creating advanced robotic applications. ROS is now considered standard technology among robotics researchers, but equally important, the next-generation of robotics engineers will be versed in ROS. Commercial support for ROS is also gaining, with robots, automation products and software based on ROS coming from companies like Google, ABB, Rethink Robotics, Universal Robots, and Toyota. ROS has the potential to become a foundational software platform for all manner of actuated devices, ranging from service robots to industrial manipulators and on to consumer systems, autonomous vehicles, and more."
This report is part of ABI Research's Robotics, Automation and Intelligent Systems Market Research (https://www.abiresearch.com/market-research/service/robotics-automation-and-intelligent-systems/), which offers informed and actionable quantitative research and qualitative analysis to solution providers and end-users so that they may increase opportunities and minimize risk when employing robotics and intelligent systems technologies to develop entirely new markets and product categories, and enhance existing product lines.
ABI Research provides in-depth analysis and quantitative forecasting of trends in global connectivity and other emerging technologies. From offices in North America, Europe and Asia, ABI Research's worldwide team of experts advises thousands of decision makers through 70+ research and advisory services. Est. 1990. For more information visit www.abiresearch.com, or call +1.516.624.2500.
Featured Product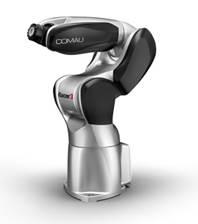 Racer3 is a powerful, high-speed, 6-axis articulated robot featuring a payload of 3kg and a reach of just 630 mm. Built from high-strength aluminum, the newest innovation in Comau robotics is lightweight and can be easily mounted on benches, walls, ceilings or on inclined supports. The third robot within the award-winning Racer family, Racer3 is Comau's response to the growing demand for fast, cost-effective robotic automation within small to medium-sized enterprises and emerging countries. Racer3 is intended for general industry use to increase productivity and reduce overall costs by automating industrial applications. It combines field-proven technology and enhanced dexterity with a keen focus on safety, design and product aesthetics. With a streamlined design and brushed metal exterior, the new powerhouse of a robot combines beauty and speed together with absolute precision and repeatability. Primary applications include assembly, material handling, machine tending, dispensing and pick & place.