Allied Motion's innovative new DPFlex II sensorless brushless drive hits market
Allied Motion's DPFlex II is the second generation of our innovative, patented digital sensorless brushless motor drive series. The DPFlex II adds higher speed capability (up to 150,000 RPM), a higher bus voltage capability, the ability to drive lower impedance motors and convenient software-settable rotation direction.

The result: a sensorless brushless drive able to power a much broader range of motors than the first generation DPFlex.
Key Features and Benefits of the DPFlex II:
*DPFlex sensorless control means reduced wiring complexity and cost without sacrificing performance
*Drives delta- or wye-connected at brushless motors up to 150,000 RPM
*Outputs up to 48 V and 30 A peak (1200 W output power) to drive a wide range of motors
*Broad 20:1 speed control range - competitive units are typically capable of only 10:1
*Full protection against most faults, including thermal overload.
The DPFlex II's patented technology enables detection of motor rotor position at standstill for reliable starting without rotor movement and while under load. The result is robust, stable motor operation at reduced cost compared to sensored motor drives. The DPFlex II boasts performance levels exceeding even those of conventional Hall-commutated drives.
Applications that can benefit from use of the DPFlex II include pumps, high speed compressors, medical hand pieces, fans and blowers, respirators, centrifuges, conveyors, variable-speed scanners, and similar speed/torque control equipment.
Allied Motion provides complimentary DP.D Windows-based software for the DPFlex II. The software auto-calculates optimum current loop settings for the motor and enables easy setting of inputs and outputs on the drive, and provides a four-channel oscilloscope tool that is able to log system register data in real time.
For additional information contact the Allied Motion N.A. Solution Center at (888) 392-5543 or inquiry@alliedmotion.com.
Featured Product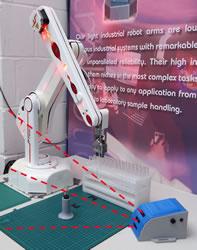 ST Robotics have decades of experience in industrial robots having sold hundreds of robots over the years. The company has 3 main models, R12, R17 and R19 all using a unique simple industrial technology that dramatically reduces costs resulting in the lowest priced industrial robots available. The same uncomplicated technology vastly improves reliability. ST backs this up with a 2 year warranty. Typical applications are routine testing, sample handling and also education. The software is a different paradigm from most robots. It is command based; you type a command and see immediate action. Programming is a building block approach, building confidence as you program in small 'mind-sized bytes'. ST offers free unlimited technical support.