Expansion Modules add Gigabit-Ethernet or Multiport Serial Connectivity
Taipei, Taiwan - Innodisk, the service driven flash provider, announces the newest additions to its Embedded Peripheral line of expansion modules for embedded systems. Both using an mPCIe interface, the EMPL-G201 adds up to 2 Gigabit Ethernet ports and the EMP2-X401 adds either 4 or 8 serial ports independently selectable by software to communicate in either RS232, RS422 or RS485 mode. These modules allow system designers to easily expand Ethernet or serial connectivity of embedded systems for IoT and Industrial applications.

"The new communication-oriented Embedded Peripheral Modules are the next step in our E.P. line of expansion modules for embedded systems, allowing us to better serve our industrial and embedded customers." said Chico Hsiao, the product manager of Embedded Peripherals Division. "With the EMPL-G201 and EMP2-X401, customers can easily add communication ports to their embedded systems for IoT, M2M or industrial applications."
Single and Dual-port Gigabit Ethernet
With an mPCIe interface, the EMPL-G201 adds one or two isolated Gigabit Ethernet ports to any embedded system. Besides basic Gigabit Connectivity, more GbE ports allow system for Link aggregation (a.k.a Port Trunking) which can give 2x or 3x Gigabit speeds. Advanced networking features such as load-balancing, failover, or multiple IPs are also made possible by more GbE connectivity. A daughter board with cable offers 2 standard RJ45 Ethernet jacks and accommodates a variety of embedded system form factors.
Multi-Port RS232/422/485
Innodisk's EMP2-X401 is a multi-port serial module that supports RS-232, RS-422 and RS-485 communication. Offering either 4 or 8 ports, each serial port can be independently configured by software to use any of the 3 serial communication protocols. A flexible cable connects the peripheral module with up to 8 daughter boards each with a DB9 serial port and power output selectable for 5V or 12V. This module also offers 8 sets of GPIO on expansion board for users as an optional purchase.
LAN Power Isolation
The EMPL-G201 Ethernet module features a LAN isolation circuit design to protect the system from power transients unexpectly.
15kV ESD Protection
Both the EMPL-G201 and EMP2-X401 feature ESD surge protection on both cards which can handle electrostatic shocks up to 15KV.
Ruggedized
The connector interfaces of both the EMPL-G201 and EMP2-X401 feature 30 nanometer "golden finger" connectors for a robust connection. Wide operating temperature from -40° to 85°C is also available as an option.
About Innodisk
Innodisk is a service driven provider of flash memory and DRAM products for the industrial and enterprise applications. With satisfied customers across the embedded, aerospace and defense, cloud storage markets and more, we have set ourselves apart with a commitment to dependable products and unparalleled service. This has resulted in products including embedded peripherals designed to supplement existing industrial solutions and high IOPS flash arrays for industrial and enterprise applications. The expanded business lines are leading our next step in being a comprehensive solution and service provider in industrial storage industry.
Founded in 2005 and headquartered in Taipei, Taiwan with engineering support and sales teams in China, Europe, Japan, and the United States, Innodisk is able to support clients globally. With abundant experience and an unrivaled knowledge of the memory industry, Innodisk develops products with excellent quality, remarkable performance, great cost-efficiency, and the highest reliability. For more information about Innodisk, please visit http://www.innodisk.com.
Featured Product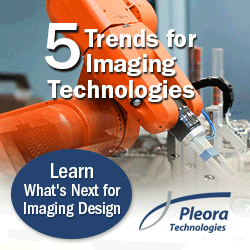 Technology development moves at a dizzying pace and the machine vision industry is no exception. Specific to imaging there is consistent innovation aimed at improving efficiencies, costs, and intelligence. Over the past 12 months, for example, new USB3 Vision™ products have driven the design of higher bandwidth, plug-and-play solutions for imaging applications. What's next for machine vision? This article examines five trends that are expected to influence imaging system design. Sign up at right to receive news and updates on the latest vision technology for medical imaging and you'll receive Five Trends for Imaging Technologies free!