Dallas-Fort Worth-based regional operation offers responsive, localized service and dedicated support for key logistics hub
(DALLAS: Nov. 25, 2014)—Intelligrated® (www.intelligrated.com), a leading North American-based automated material handling solutions provider, announces the grand opening of its new southwest regional sales and operations based in Irving, Texas.

The new location addresses critical growth in the southwest and ensures companies interested in automated material handling solutions have convenient access to highly-specialized engineering, project management and sales support.
"The southwest is a strategic priority for Intelligrated and the new regional operation will build long-term partnerships with customers to learn their business and enhance productivity," said Chris Cole, CEO.
To drive engineering, project management, sales and aftermarket lifecycle services for the new regional operation, Royal Smith, Intelligrated's senior vice president of regional sales and operations, appoints Martin Augustyn as vice president, southwest regional sales and operations. Augustyn has more than 25 years of experience in the automated material handling industry, with approximately 16 years in the southwest territory. His prior positions at Intelligrated include senior sales engineer, concepting and estimating manager, and operations manager. Augustyn earned his bachelor's degree in electrical engineering with a minor in mathematics from Marquette University.
To complete the senior leadership team, Augustyn appoints Kyle Brock as sales manager, Jim Gnacinski as operations manager and Heather Smith as office manager. The southwest regional operation is actively recruiting for mechanical, electrical and sales engineering positions to augment existing sales and engineering staff. Interested candidates should apply through Intelligrated's website.
Located at 125 E. John Carpenter Freeway, suite 900, the southwest regional operation serves Texas, Louisiana, Arkansas, Oklahoma, New Mexico, Colorado and Kansas. The enhanced local presence enables Intelligrated to better serve apparel, e-commerce and retail distribution industries, as well as food and beverage manufacturing, by offering intelligent software solutions and automated material handling systems.
The southwest regional operation offers Intelligrated's broad portfolio of solutions and products, including conveyor and sortation systems, fulfillment execution software, picking technologies, robotic systems, palletizers, and automated storage and retrieval systems, all supported by world class 24X7 customer service and support.
For sales and marketing information, contact Karen Salles, senior marketing coordinator, Intelligrated, by phone at 513.881.5306 or by email at karen.salles@intelligrated.com.
For media information, contact Natalie Fioto, public relations, Koroberi, by phone at 919.945.0566 or by email at natalie@koroberi.com.
Featured Product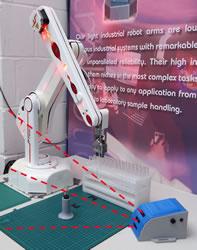 ST Robotics have decades of experience in industrial robots having sold hundreds of robots over the years. The company has 3 main models, R12, R17 and R19 all using a unique simple industrial technology that dramatically reduces costs resulting in the lowest priced industrial robots available. The same uncomplicated technology vastly improves reliability. ST backs this up with a 2 year warranty. Typical applications are routine testing, sample handling and also education. The software is a different paradigm from most robots. It is command based; you type a command and see immediate action. Programming is a building block approach, building confidence as you program in small 'mind-sized bytes'. ST offers free unlimited technical support.