Now even stronger, more efficient and with yet more combination options: There are new additions to the maxon family of X drive products. Several long versions of brushed DC motors, with higher torques and more power, are being added to the product range, together with matching planetary gearheads. Each of the 3-stage versions can now be combined with the next smaller motor. This saves space, weight and costs.
Two years ago, maxon motor presented a new generation of brushed DC motors - the maxon X drives. These are extremely powerful, easy to configure online, and ready for shipment within 11 days. Now, four more motor sizes are being added to the existing portfolio. The 14, 16, 22 and 26 mm diameter models are now each available in a long version (L), which offers higher continuous torque and higher continuous output power.

At the same time, maxon motor is presenting four new GPX planetary gearheads, in the sizes 14, 19, 26 and 37 mm, which feature perfect compatibility. All of these gearheads are designed with scaled gear stages. The biggest news is that each of the new 3-stage gearheads can be driven with the next smaller motor. This brings many advantages, as the resulting drive system is smaller, lighter and more economical.
That's not all: Starting immediately, the existing GPX 16 and GPX 32 models are available in various versions and can be equipped with ceramic axles to reduce wear. Customers looking for a particularly low noise gearhead have the option of choosing plastic planet gears.
maxon has also expanded the encoder portfolio. The new ENX 16 Easy absolute encoder is available as an SSI or BiSS-C version, according to the customer's requirements.
All new products are available in the online shop starting immediately. They can be easily configured together with the other maxon X drive products: Customers choose the desired motor, the matching winding, brushes and shaft length, as well as the gearhead and encoder. The configured product is ready for shipment in 11 days or less.
For more information, go to dcx.maxonmotor.com.
EDITORIAL CONTACT:
Warren Osak
sales@electromate.com
Toll Free Phone: 877-737-8698
Toll Free Fax: 877-737-8699
www.electromate.com
Tags: Servo Motor, BLDC Motor, Brushless Motor, EC Motor, Electronically Commutated Motor, Maxon, maxon motor, Electromate, DCX, ENX, GPX
Featured Product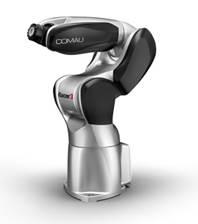 Racer3 is a powerful, high-speed, 6-axis articulated robot featuring a payload of 3kg and a reach of just 630 mm. Built from high-strength aluminum, the newest innovation in Comau robotics is lightweight and can be easily mounted on benches, walls, ceilings or on inclined supports. The third robot within the award-winning Racer family, Racer3 is Comau's response to the growing demand for fast, cost-effective robotic automation within small to medium-sized enterprises and emerging countries. Racer3 is intended for general industry use to increase productivity and reduce overall costs by automating industrial applications. It combines field-proven technology and enhanced dexterity with a keen focus on safety, design and product aesthetics. With a streamlined design and brushed metal exterior, the new powerhouse of a robot combines beauty and speed together with absolute precision and repeatability. Primary applications include assembly, material handling, machine tending, dispensing and pick & place.