The SME Board of Directors today named Krause to the position, which is effective Dec. 15.
(DEARBORN, Mich., Dec . 8, 2014) — SME, an organization dedicated to supporting and educating the manufacturing industry through workforce development, training, events, media and membership, is pleased to announce its new executive director and chief executive officer, Jeffrey M. Krause. The SME Board of Directors today named Krause to the position, which is effective Dec. 15.

"We are thrilled to announce that Jeff will be joining SME to lead the business and drive the organization's mission to inspire, prepare and support our stakeholders in the advancement of manufacturing," said SME's Interim CEO and 2015 President Wayne F. Frost. "Krause's strong background positions him to support SME in its goals of advancing manufacturing and attracting future generations."
Krause joins SME from Intraco, where he has served as vice president of operations since 2010. In this role, Krause was responsible for enhancing business processes for sustainable and profitable growth. Prior to that, he held various manufacturing, sales and strategy roles at Delphi and General Motors, including a role as the GM Foundation vice chairman.
"I am privileged to have this opportunity to lead SME at a time when manufacturing is strong, innovative and driving the global economy," said Krause. "SME has supported the manufacturing industry, including companies, students and professionals, for more than 80 years. To join this organization at a time when manufacturing is vital and growing is truly an honor."
In his new role, Krause will be responsible for setting the strategic direction of the organization, while also leading day-to-day operations and working closely with customers and stakeholders. He will have general management of all aspects of SME, with oversight of its strategic business units, Tooling U-SME, Advanced Manufacturing Media, the SME Education Foundation, SME's Events and Membership. Combined, these business units support both the current and future generations of the manufacturing workforce, while providing key resources, training and networking opportunities.
Krause holds a bachelor's degree in industrial administration from Kettering University and a master's degree in business administration from the Harvard Business School.
About SME
SME connects all those who are passionate about making things that improve our world. As a nonprofit organization, SME has served practitioners, companies, educators, government and communities across the manufacturing spectrum for more than 80 years. Through its strategic areas of events, media, membership, training and development, and the SME Education Foundation, SME is uniquely dedicated to advancing manufacturing by addressing both knowledge and skill needs for the industry. Follow @sme_mfg on Twitter or facebook.com/smemfg
Featured Product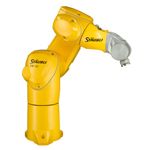 Stäubli offers a complete range of robotic tool changing systems for payloads of 20 kg to 1,530 kg and torsion moments from 30 to 12,500 Nm, designed for use in virtually every industry. The tool changers adapt to customer-specific applications with different modules for media, data, power, etc. The new MPS 130 robotic tool changer is powerful, very robust, and designed for a huge range of applications. It features multiple couplings for air/vacuum connections, and can be equipped with connectors for data and electrical transmission. Very compact dimensions, with a coupled height of only 67 mm, make the MPS 130 the first choice for applications requiring a high number of mating cycles.