PC-based controllers lower costs, delivering equal or better precision, performance
TAIPEI, Taiwan--KingStar today released version 2.0 of its innovative machine control products: KingStar Motion and KingStar IO, which target industrial machines requiring motion control and positioning systems.

KingStar 2.0 includes architectural improvements to take advantage of multiprocessor systems, new functionality in more than a dozen areas, and increased servo control support, the company said.
KingStar's all-software approach stands apart from other machine control solutions, allowing for the creation of software-only, PC-based controllers that lower costs while delivering equal or better precision and performance.
The software-only approach uses the EtherCAT standard; the power of Industrial PCs; and the Windows operating system, enhanced by hard real-time software that transforms Windows into a real-time operating system (RTOS).
KingStar Motion software replaces costly motion control boards such as those from Adlink, Advantech, Googol, Adtech, Weihong and others. KingStar Motion also supports CANOpen over EtherCAT further lowering the total costs.
Engineers customize the control system for their machine without facing the challenges and worries of engineering real-time control threads required for high-speed precision. Engineers work exclusively in Windows in the "Open Loop" process and submit one or more commands to the motion kernel API, which handles the rest of the "Closed Loop" processing.
KingStar IO exposes the real-time interface that allows customers to integrate their own motion control algorithms or software. This solution is for customers that want to use CANopen over EtherCAT, but develop their own motion controller.
The strength of this approach is that the customer has kernel level control of motion commands via a powerful Runtime that transforms Windows into a real-time operating system (RTOS). The resulting machine control is highly customizable and has hard real-time, high-precision capabilities.
Both KingStar Motion and KingStar IO have separate Professional and Entry editions.
Featured Product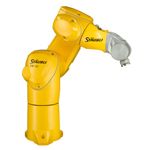 Stäubli offers a complete range of robotic tool changing systems for payloads of 20 kg to 1,530 kg and torsion moments from 30 to 12,500 Nm, designed for use in virtually every industry. The tool changers adapt to customer-specific applications with different modules for media, data, power, etc. The new MPS 130 robotic tool changer is powerful, very robust, and designed for a huge range of applications. It features multiple couplings for air/vacuum connections, and can be equipped with connectors for data and electrical transmission. Very compact dimensions, with a coupled height of only 67 mm, make the MPS 130 the first choice for applications requiring a high number of mating cycles.