Jabez Technologies is happy to announce our newest employee in North America; Matt Soucy has joined the growing Robotmaster team as the Eastern US Account Manager.
President of Jabez Technologies, Chahe Bakmazjian, said that "we are enthusiastic to have Matt Soucy join our team; his experience in manufacturing, CAD/CAM software and sales/distribution management will be a tangible asset to our partners, resellers and end-users". Matt Soucy said that "he is excited to join the team at Robotmaster; it is a great group of very bright and energetic people! We have a great future ahead of us at Robotmaster, especially in North America with the current robotic trend towards high technology manufacturing growing so rapidly".

Matt Soucy has worked in the CAD/CAM/CAE and manufacturing fields for over 20 years with the top software providers in the industry. Having held positions in Sales, Management, Product Management and Engineering he is very experienced in software and manufacturing principals. Matt will be a key person as Robotmaster expands its market share in the Eastern US as we continue to facilitate the adoption of robots to fuel the manufacturing resurgence in North America.
About Robotmaster
Robotmaster seamlessly integrates CAD/CAM based robot programming, simulation and program generation. Common robot programming challenges typically require intricate user intervention or costly manual editing for producing error free programs. Robotmaster provides innovative new tools to effortlessly optimize robot programs producing error-free robot paths avoiding singularity zones and collisions, working around joint and reach limitations and optimizing tool orientations along the entire trajectory. Robotmaster is ideally suited to program robots for such tasks as trimming, 3D machining, de-burring, polishing, welding, dispensing, grinding and painting, and supports most industrial robot models.
About Jabez Technologies
Robotmaster is a product of Jabez Technologies, specialized in dedicated software solutions for industrial automation, manufacturing and robotics since 1996. For more information please visit our web page http://www.robotmaster.com or email us at info@robotmaster.com
Featured Product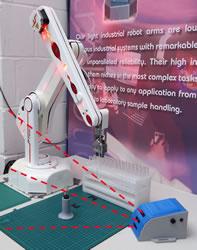 ST Robotics have decades of experience in industrial robots having sold hundreds of robots over the years. The company has 3 main models, R12, R17 and R19 all using a unique simple industrial technology that dramatically reduces costs resulting in the lowest priced industrial robots available. The same uncomplicated technology vastly improves reliability. ST backs this up with a 2 year warranty. Typical applications are routine testing, sample handling and also education. The software is a different paradigm from most robots. It is command based; you type a command and see immediate action. Programming is a building block approach, building confidence as you program in small 'mind-sized bytes'. ST offers free unlimited technical support.