FAA announces Oregon-based VDOS GLOBAL LLC as the nation's first approved provider of commercial unmanned aircraft for Oil & Gas Inspection Services
CORVALLIS, Ore., Dec. 10, 2014 -- VDOS Global LLC, a provider of unmanned aerial vehicle (UAV) inspection services and data collection, is the first company to receive approval by the FAA to perform commercial inspection services using UAVs. The waiver issued by the FAA allows VDOS Global to pioneer the practice of using UAV technology to perform off-shore inspections for structures owned and operated by Shell throughout the Gulf of Mexico.

VDOS founder and CEO Brian Whiteside said, "We are proud to be the first company approved by the FAA to help the Oil and Gas industry improve safety and protect the environment through the use of UAV technology. Our experience as military and commercial pilots combined with our commitment to safety make us the right team to take this important first step for the industry. We are also proud of our relationship with Shell and of our shared commitment to maintain the highest standards of safety in executing UAV inspections on their installations."
Collaborative efforts between VDOS and Shell will advance the use of robotics for safety furthering the goal of reducing potential hazards to personnel. The collaboration will allow the companies to continue to push the limits of technology while forging a path that will support the proper and safe use of UAV in the oil and gas industry, thus enabling the industry to operate with improved techniques and practices.
With more than 3,500 potential inspection sites in the Gulf of Mexico alone, VDOS anticipates significant demand to perform inspections that are time and cost intensive for oil and gas producers. UAV technology utilizes high definition and thermal imaging to detect faults, corrosion and other signs of deterioration, while posing no additional risk to humans and without interrupting operations. Results can be interpreted immediately, allowing for the prompt reporting and handling of matters pursuant to an operator's safety management systems.
VDOS Global has strategic relationships with top manufacturers of UAV technology, allowing them to create and operate customized packages of software and equipment, based on the unique data needs and environment of each client. VDOS Global's unparalleled experience operating UAVs allows them to perform inspections for major worldwide energy producers. VDOS Global is expanding their operations and currently is planning operations in Canada and Alaska. VDOS is also committed to lending their expertise to humanitarian causes and supports the Multination Communications Interoperability Program by assisting in the development of emergency response plans for the Pacific Rim Nations. The company is a member of the Pan Pacific UAS Test Range, and manages the Warm Springs UAS Test Site. To learn more about VDOS, visit www.vdosglobal.us
About VDOS Global LLC
VDOS Global LLC was founded in 2011 by CEO Brian Whiteside after a distinguished career in both the military and private aviation industry. Mr. Whiteside is a Navy veteran and former FA-18 pilot who has become a leader in the commercial application of unmanned technology through years of worldwide operations and deployments. Brian also serves as the Cascade Chapter President of the Association of Unmanned Vehicle Systems International (AUVSI). Based in Corvallis Oregon, VDOS pilots travel to locations in the US and abroad to provide strategic UAV support, through operations, data collection and consultation. For more information, visit www.vdosglobal.us.
Featured Product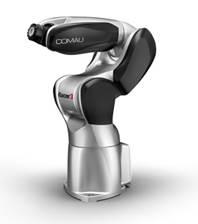 Racer3 is a powerful, high-speed, 6-axis articulated robot featuring a payload of 3kg and a reach of just 630 mm. Built from high-strength aluminum, the newest innovation in Comau robotics is lightweight and can be easily mounted on benches, walls, ceilings or on inclined supports. The third robot within the award-winning Racer family, Racer3 is Comau's response to the growing demand for fast, cost-effective robotic automation within small to medium-sized enterprises and emerging countries. Racer3 is intended for general industry use to increase productivity and reduce overall costs by automating industrial applications. It combines field-proven technology and enhanced dexterity with a keen focus on safety, design and product aesthetics. With a streamlined design and brushed metal exterior, the new powerhouse of a robot combines beauty and speed together with absolute precision and repeatability. Primary applications include assembly, material handling, machine tending, dispensing and pick & place.