Mr. Yorsz will oversee all aspects of strategy and operations.
WALTHAM, Mass., Jan. 20, 2015 -- QinetiQ North America (QNA) today announced that it has appointed Jeff Yorsz as its new President. As President of QinetiQ North America, Mr. Yorsz will oversee all aspects of strategy and operations.

Mr. Yorsz joins QNA from Northrop Grumman where he was the General Manager of Adaptive Optics Associates (AOA), a supplier of mission critical systems to government, industrial and commercial customers. During his tenure at AOA, Jeff Yorsz drove significant growth and the transformation of the company in response to changing market conditions."
"Mr. Yorsz has a wealth of experience and demonstrated successes in the government and commercial markets," said Len Moodispaw, Chairman of the Board at QinetiQ North America. "I am confident that he will provide exceptional leadership to QNA."
"I am very impressed with both the products and the people at QinetiQ North America," said Mr. Yorsz. "Historically QNA has developed products in robotics, armor, controls, and sensors to solve some of the most difficult problems faced by government and industry. I look forward to continuing that tradition of innovation with our present customers and also leveraging it to invigorate our non-defense activities."
Mr. Yorsz holds several degrees from Massachusetts Institute of Technology (M.I.T.) including an Engineer's Degree in Electrical Engineering, M.S. in Electrical Engineering and a B.S. in Management.
About QinetiQ North America
QinetiQ North America (QNA) is a subsidiary of QinetiQ Group plc, the FTSE250 company listed on the London Stock Exchange (LSE:QQ.L). QNA delivers world-class technology and revolutionary products to the defense, security, commercial and transportation markets. Our products include unmanned systems, warfighter protection, power sensors and control systems and transportation safety solutions. Customers rely on QNA products to increase situational awareness, aid in personal safety, enhance security and streamline operations. QNA is headquartered in Waltham, Massachusetts and operates as the US arm of QinetiQ Group's Global Products division. For more information visit www.qinetiq-na.com.
Featured Product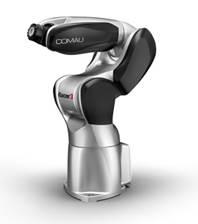 Racer3 is a powerful, high-speed, 6-axis articulated robot featuring a payload of 3kg and a reach of just 630 mm. Built from high-strength aluminum, the newest innovation in Comau robotics is lightweight and can be easily mounted on benches, walls, ceilings or on inclined supports. The third robot within the award-winning Racer family, Racer3 is Comau's response to the growing demand for fast, cost-effective robotic automation within small to medium-sized enterprises and emerging countries. Racer3 is intended for general industry use to increase productivity and reduce overall costs by automating industrial applications. It combines field-proven technology and enhanced dexterity with a keen focus on safety, design and product aesthetics. With a streamlined design and brushed metal exterior, the new powerhouse of a robot combines beauty and speed together with absolute precision and repeatability. Primary applications include assembly, material handling, machine tending, dispensing and pick & place.