Offers Advanced Vision Capabilities and Rugged Architecture
Pleasanton, Calif., February 3, 2015 - Adept Technology, Inc. (Nasdaq:ADEP),

a leading provider of intelligent industrial and mobile robots and services
worldwide, today announced the Adept SmartVision MX vision processor for its
fixed industrial robots. Optimized for continuous use in factory
environments, Adept SmartVision MX provides a simple and dependable way to
add powerful vision guidance and inspection to industrial robot
applications.
"The adoption of vision-guided robotics continues to grow as manufacturers
realize the flexibility and increased accuracy gained in parts feeding and
inspection," said Yan Banducci, senior product line manager of Industrial
Robots at Adept. "Adept has introduced new state-of-the-art machine vision
technology with the Adept SmartVision MX and its easy-to-deploy,
cost-effective cameras. The SmartVision MX platform combines the latest in
vision technology with a rugged design for continuous, uninterrupted use on
the factory floor."
Adept SmartVision MX boasts an Intel Core i7 processor, a solid-state hard
drive, a fanless architecture and a wide operating temperature range, making
it ideal for the rigors of industrial use. It is compatible with a new
selection of compact machine vision cameras that provide a wide range of
resolution options in color or monochrome, and it's equipped with Gigabit
Ethernet ports with Power over Ethernet (GigE PoE) and USB 3.0 ports to
accommodate up to eight cameras simultaneously.
Factory loaded with Adept ACE software, SmartVision MX gives users an
integrated, point-and-click development and simulation environment for
Adept's complete portfolio of fixed industrial robots and controls. Optional
software extensions include AdeptSight for configuring object location and
inspection applications, and ACE PackXpert for deploying complete packaging
automation solutions.
About Adept Technology, Inc.
Adept is a global, leading provider of intelligent robots, autonomous mobile
robot solutions, and services that enable customers to achieve precision,
speed, quality and productivity in their assembly, handling, packaging,
testing, and logistical processes. With a comprehensive portfolio of
high-performance motion controllers, application development software,
vision-guidance technology and high-reliability robot mechanisms with
autonomous capabilities, Adept provides specialized, cost-effective robotics
systems and services to high-growth markets including medical, electronics,
food and semiconductor; as well as to traditional industrial markets
including machine tool automation and automotive components. More
information is available at www.adept.com.
Featured Product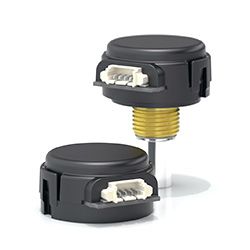 US Digital is pleased to announce the launch of the E4T, their latest series of miniature high performance optical encoders. The E4T series delivers a marked performance increase over similar encoder models and designed to be an enhanced replacement for the E4P encoder series. The E4T utilizes state of the art transmissive optical sensing technology, and incorporates US Digital's own proprietary OptoASIC. Assembly of the E4T is simple and efficient and retains the previous E4P's form factor. Key features of the new E4T include: • Mechanically and Electrically Interchangeable with E4P • Improved Quadrature Signal Strength • 100 kHz Frequency Response • Transmissive Optical Design • Collet Style Push on Optical Disk Design (Patent Pending) • Simple & Efficient Assembly Process As with all of our products the E4T is designed and manufactured in their Vancouver, Washington USA facility and is available for purchase as of December 2014.