The application specific curriculum is targeted to customer engineers, technicians and programmers interested in earning official certification
AUBURN HILLS, Mich. (February 10, 2015) - ABB Robotics has developed a Customer Certification program where customer employees can take the classes necessary to become a Certified Robot Maintenance Technician and/or a Certified Robot Programmer. Instruction, hands-on training, and qualification assessments are conducted at each of the ABB US Robotics training facilities in North America. The program began February 9, 2015.

The curriculum is currently offered in five specific application areas, including Arc Welding, Spot Welding, Laser Cutting, Material Handling and Paint. Classes are taught by certified ABB instructors, supported by comprehensive course materials dedicated to each application. Certification in each area is awarded after the successful completion of all course work and a cumulative, online final exam. The program is targeted to engineers, technicians and programmers who work with robots.
"This is a great opportunity for our customers to earn official certification in one or more applications from ABB," said Christelle Keefer, director of training, ABB Robotics.
For more information including complete class listings call 800-435-7365, write RoboticsTraining@us.abb.com or visit www.abb.us/RoboticsTraining.
Featured Product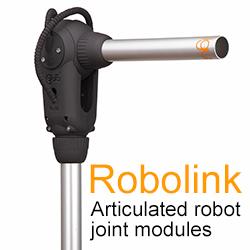 Robolink: Articulated joint modules for robots. igus® now offers a lightweight, maintenance- and corrosion-free range of robot joints for humanoid systems or other automated applications. The carbon-fiber plastic joints can rotate and oscillate freely via four wire ropes. No more expensive milling, cutting or DIY systems. Moving mass is reduced to a minimum. The actuators (engines, pneumatics and hydraulics) and the control module (DP, PC) are kept separate. Contact igus® for more information and free samples.