Leader in hospital automation makes the Top 50 Companies to Watch list for fourth consecutive year.
DENVER, Feb. 18, 2015 -- Swisslog Healthcare Solutions, a leading supplier of automation and software solutions for material transport, medication management and warehouse distribution, ranks among the Robotics Business Review (RBR) magazine Top 50 Companies to Watch in 2015. The fourth annual RBR50 list comprises the most noteworthy public and private companies in the global robotics industry for the year.

Companies selected for this recognition represent many different levels and facets of the robotics ecosystem. Each year, the list includes the most competitive companies in the robotics industry based on their innovation, groundbreaking application, commercial success and potential.
"Swisslog designs and delivers automation solutions that increase efficiency and enhance the patient experience," said Swisslog Healthcare Solutions President Stephan Sonderegger. "We're honored to have our success recognized in this way." Other leading robotics companies recognized include Google, Siemens, Northrup Grumman, Bosch and KUKA Robotics - which acquired Swisslog in December 2014.
RBR tracks the 50 companies throughout the year on their interactive company pages, reporting on partnerships, product pipelines and business growth.
About Robotics Business Review
Robotics Business Review is the #1 resource reporting and analyzing up-to-the-minute business and technology developments - plus financial transactions - taking place across the fast-changing landscape of global robotics. Members enjoy in-depth reporting, breaking news, RBR50 profiles, a member-only newsletter, key financing alerts, insights on future trends and access to exclusive research reports. Learn more at RoboticsBusinessReview.com.
Swisslog Healthcare Solutions is the leading supplier of automation and software solutions for material transport and medication management in healthcare facilities. Swisslog has installed facility-wide and pharmacy automation systems in more than 3,000 hospitals worldwide, including more than 2,000 in North America. Denver-based Swisslog Healthcare Solutions offers total system design, manufacturing, installation and customer support - providing an integrated solution for lean workflow and operations that enhances information access, patient safety and cost efficiency.
About Swisslog
Swisslog designs, develops, and delivers best-in-class automation for forward-thinking hospitals, warehouses and distribution centers. We offer integrated solutions from a single source - from consulting services to design, implementation and lifetime customer service. Behind the company's success are 2,300 employees worldwide, supporting customers in more than 50 countries.
Featured Product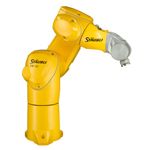 Stäubli offers a complete range of robotic tool changing systems for payloads of 20 kg to 1,530 kg and torsion moments from 30 to 12,500 Nm, designed for use in virtually every industry. The tool changers adapt to customer-specific applications with different modules for media, data, power, etc. The new MPS 130 robotic tool changer is powerful, very robust, and designed for a huge range of applications. It features multiple couplings for air/vacuum connections, and can be equipped with connectors for data and electrical transmission. Very compact dimensions, with a coupled height of only 67 mm, make the MPS 130 the first choice for applications requiring a high number of mating cycles.